Mac OS X 10.5.5 build 9F17 now in developers' hands
By Sam Oliver
Tuesday, August 19, 2008, 06:00 am PT (09:00 am ET)
Alongside the public release of iPhone Software v2.0.2 on Monday, Apple also provided its Mac OS X developers with a new private build of the upcoming Mac OS X 10.5.5 Update, AppleInsider has been told.

Those familiar with the software say the new seed, labeled Mac OS X 10.5.5 build 9F17, introduces five new fixes, bringing the total number of code corrections expected as part of the release to 120.

Specifically, Apple is said to have addressed issues with iCal Invitations and read-only local calendars, Back to My Mac, Mail syncing, and CoreAnimation.

As was the case with build 9F13, released last Wednesday, the new pre-release seed is reported to contain no known issues. Apple also made no changes to a list of two dozen core focus areas, which continue to include components such as AirPort, graphics drivers, iCal, iChat, networking, screen sharing, and Time Machine.

Mac OS X 10.5.5 is expected for release sometime in the coming weeks.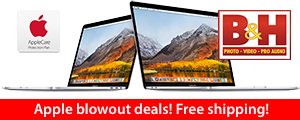 2017 12" MacBooks
Price
Save
1.2GHz/8GB/256GB (Gold)
$799.00+
$500
1.2GHz/8GB/256GB (Rose Gold)
$799.00+
$500
2018 13" Touch Bars
Price
Save
2.3GHz/8GB/256GB (Gray)
$1,649.99+
$150
2.3GHz/8GB/512GB (Silver)
$1,879.00+
$120
2.3GHz/16GB/256GB (Gray)
$1,949.00+
$50
2.7GHz/16GB/512GB
$2,449.00+
$50
2.7GHz/16GB/1TB
$2,849.00+
$50
2018 15" MacBook Pros
Price
Save
2.2GHz/16/256GB/555X
$2,549.00+
$50
2.2GHz/16/512GB/555X
$2,575.00+
$225
2.9GHz/16/1TB/560X
$3,199.00+
$300
2.9GHz/32/2TB/560X (Gray)
$3,999.00+
$700
2.9GHz/32/4TB/560X (Gray)
$5,999.00+
$700
Click here for dozens more configurations
+ Free shipping within the contiguous U.S.
Lowest Prices Anywhere!

13" MacBook Pros
Price
You Save
3.1GHz/8GB/256GB Gray
$1,679.00
$120.00
3.1GHz/8GB/256GB Silver
$1,704.00*
$95.00
3.1GHz/8GB/512GB Gray
$1,849.00*
$150.00
3.1GHz/16/512GB Gray
$2,099.00
$100.00
15" MacBook Pro
Price
You Save
2.8GHz/16/256/555 Silver
$2,199.00*
$200.00
2.8GHz/16/256/560 Gray
$2,299.00
$200.00
2.9GHz/16/512/560 Gray
$2,599.00
$200.00
2.9GHz/16/1TB/560 Gray
$2,999.00
$200.00
3.1GHz/16/512/560 Gray
$2,799.00
$200.00
3.1GHz/16/2TB/560 Gray
$3,899.00
$300.00

*

price with Promo Code:

APINSIDER

prices.appleinsider.com for more configurations