Low-risk Mac Trojan poses as legit media downloader
By AppleInsider Staff
Friday, December 14, 2012, 06:46 am PT (09:46 am ET)
A new Trojan that targets Apple's OS X platform poses as a legitimate application that can be used to download audio and video.




This week security firm Intego warned users about the new Trojan, which it considers to be a "low-risk" threat. The Trojan disguises itself as VKMusic App, which, in its legitimate form, is used to download audio and video from sites like YouTube and Vimeo.

The Trojanized app bundle is a large 48-megabyte download padded with extraneous zeroes to reach that file size. The threat is considered low-risk because users must install it, enter their mobile phone number, and then reply to an SMS text with a confirmation code.

The threat, identified as OSX/SMSMonster.A, is blocked by Apple's Gatekeeper built in to OS X 10.8 Mountain Lion, as well as Intego's VirusBarrierX6.
Today's Headlines
No news headlines yet today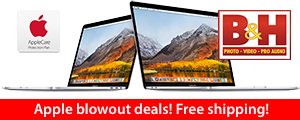 2018 13" Touch Bars
Price
Save
2.3GHz/8GB/256GB (Gray)
$1,699.00+
$100
2.3GHz/8GB/512GB (Silver)
$1,879.00+
$20
2.3GHz/16GB/512GB (Gray)
$2,099.00+
$100
2.7GHz/16GB/512GB
$2,449.00+
$50
2.7GHz/16GB/1TB
$2,849.00+
$50
2018 15" MacBook Pros
Price
Save
2.2GHz/16/256GB/555X
$2,215.00+
$185
2.2GHz/32/1TB/560X
$3,449.00+
$50
2.6GHz/16/512GB/560X
$2,575.00+
$224
2.6GHz/16/1TB/560X (Gray)
$2,999.00+
$200
2.6GHz/32/1TB/560X (Gray)
$3,399.00+
$200
2.6GHz/32/2TB/560X (Gray)
$3,999.00+
$400
Click here for dozens more configurations
+ Free shipping within the contiguous U.S.
Lowest Prices Anywhere!

13" MacBook Pros
Price
You Save
3.1GHz/8GB/256GB Gray
$1,679.00
$120.00
3.1GHz/8GB/256GB Silver
$1,704.00*
$95.00
3.1GHz/8GB/512GB Gray
$1,849.00*
$150.00
3.1GHz/16/512GB Gray
$2,099.00
$100.00
15" MacBook Pro
Price
You Save
2.8GHz/16/256/555 Silver
$2,199.00*
$200.00
2.8GHz/16/256/560 Gray
$2,299.00
$200.00
2.9GHz/16/512/560 Gray
$2,599.00
$200.00
2.9GHz/16/1TB/560 Gray
$2,999.00
$200.00
3.1GHz/16/512/560 Gray
$2,799.00
$200.00
3.1GHz/16/2TB/560 Gray
$3,899.00
$300.00

*

price with Promo Code:

APINSIDER

prices.appleinsider.com for more configurations