Apple rolls out shorter Lightning cable and redesigned in-ear headphones
By AppleInsider Staff
Thursday, February 14, 2013, 09:49 pm PT (12:49 am ET)
Apple quietly added a new 0.5 meter Lightning to USB cable and a slightly tweaked premium in-ear headphone design to its online storefront on Thursday, expanding the company's offerings of iOS device accessories.




First spotted by TUAW, the shorter Lightning cable is Apple's second offering, adding to the regular one-meter long version sold as a replacement for the unit supplied with all compatible iPhones, iPads and iPods. Both retail for $19 in the Online Apple Store.





As for the in-ear headphones, not much has changed save for the remote control module with built-in microphone, which now takes on a shape first seen with the recently released EarPods. It appears that the update is merely cosmetic, as none of the hardware specs have been modified on the product page. The IEMs still carry a price of $79 in Apple's online storefront.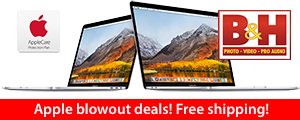 2018 13" Touch Bars
Price
Save
2.3GHz/8GB/256GB (Gray)
$1,649.99+
$150
2.3GHz/8GB/512GB (Silver)
$1,879.00+
$120
2.3GHz/16GB/256GB (Gray)
$1,949.00+
$50
2.7GHz/16GB/512GB
$2,449.00+
$50
2.7GHz/16GB/1TB
$2,849.00+
$50
2018 15" MacBook Pros
Price
Save
2.2GHz/16/256GB/555X
$2,549.00+
$50
2.2GHz/16/512GB/555X
$2,575.00+
$225
2.9GHz/16/1TB/560X
$3,199.00+
$300
2.9GHz/32/2TB/560X (Gray)
$3,999.00+
$700
2.9GHz/32/4TB/560X (Gray)
$5,999.00+
$700
Click here for dozens more configurations
+ Free shipping within the contiguous U.S.
Lowest Prices Anywhere!

13" MacBook Pros
Price
You Save
3.1GHz/8GB/256GB Gray
$1,679.00
$120.00
3.1GHz/8GB/256GB Silver
$1,704.00*
$95.00
3.1GHz/8GB/512GB Gray
$1,849.00*
$150.00
3.1GHz/16/512GB Gray
$2,099.00
$100.00
15" MacBook Pro
Price
You Save
2.8GHz/16/256/555 Silver
$2,199.00*
$200.00
2.8GHz/16/256/560 Gray
$2,299.00
$200.00
2.9GHz/16/512/560 Gray
$2,599.00
$200.00
2.9GHz/16/1TB/560 Gray
$2,999.00
$200.00
3.1GHz/16/512/560 Gray
$2,799.00
$200.00
3.1GHz/16/2TB/560 Gray
$3,899.00
$300.00

*

price with Promo Code:

APINSIDER

prices.appleinsider.com for more configurations