Apple's Aperture and iPhoto get RAW image file compatibility for new Fujifilm cameras
By AppleInsider Staff
Wednesday, April 17, 2013, 01:34 pm PT (04:34 pm ET)
An update pushed out on Wednesday brings Aperture 3 and iPhoto '11 support for RAW image files from four Fujifilm digital cameras.




Apple's Digital Camera RAW Compatibility Update 4.05 adds support for the latest Fujifilm digital cameras, all of which use the company's proprietary X-Trans CMOS sensor.

From the release notes:
This update adds RAW image compatibility for the following cameras to Aperture 3 and iPhoto '11:


Fujifilm X20
Fujifilm X100S
Fujifilm X-E1
Fujifilm X-Pro1


The Fuji-centric RAW compatibility update comes in at 6.3MB and can be downloaded through Software Update or Apple's support pages.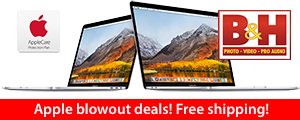 2018 13" Touch Bars
Price
Save
2.3GHz/8GB/256GB (Gray)
$1,699.00+
$100
2.3GHz/8GB/512GB (Silver)
$1,879.00+
$20
2.3GHz/16GB/512GB (Gray)
$2,099.00+
$100
2.7GHz/16GB/512GB
$2,449.00+
$50
2.7GHz/16GB/1TB
$2,849.00+
$50
2018 15" MacBook Pros
Price
Save
2.2GHz/16/256GB/555X
$2,215.00+
$185
2.2GHz/32/1TB/560X
$3,449.00+
$50
2.6GHz/16/512GB/560X
$2,575.00+
$224
2.6GHz/16/1TB/560X (Gray)
$2,999.00+
$200
2.6GHz/32/1TB/560X (Gray)
$3,399.00+
$200
2.6GHz/32/2TB/560X (Gray)
$3,999.00+
$400
Click here for dozens more configurations
+ Free shipping within the contiguous U.S.
Lowest Prices Anywhere!

13" MacBook Pros
Price
You Save
3.1GHz/8GB/256GB Gray
$1,679.00
$120.00
3.1GHz/8GB/256GB Silver
$1,704.00*
$95.00
3.1GHz/8GB/512GB Gray
$1,849.00*
$150.00
3.1GHz/16/512GB Gray
$2,099.00
$100.00
15" MacBook Pro
Price
You Save
2.8GHz/16/256/555 Silver
$2,199.00*
$200.00
2.8GHz/16/256/560 Gray
$2,299.00
$200.00
2.9GHz/16/512/560 Gray
$2,599.00
$200.00
2.9GHz/16/1TB/560 Gray
$2,999.00
$200.00
3.1GHz/16/512/560 Gray
$2,799.00
$200.00
3.1GHz/16/2TB/560 Gray
$3,899.00
$300.00

*

price with Promo Code:

APINSIDER

prices.appleinsider.com for more configurations