New, slightly tweaked shelving design showing up in some Apple retail stores
By Kevin Bostic
Monday, July 01, 2013, 02:26 pm PT (05:26 pm ET)
Apple may be on the verge of refreshing some elements of the shelving in its retail locations, as one northern California store shows a full-on redesign in the shelving for accessories and other products.




Some observers and a few insiders pointed out the slight shift in shelving to ifoAppleStore recently. The shelving redesign is said to have been done for aesthetic reasons, with the new structures no longer needing dividers for support.

The original shelving has been replaced with a new model that has no vertical dividers. The resulting design has less obstruction between items. It also allows for stores to change their layouts, displaying groups of products in rows they tweak to their needs.

The design will apparently go on to be installed in Apple's other retail locations, with stores replacing the shelving overnight. It is already in place in some newer stores, while older stores still have the wooden shelf designs with dividers.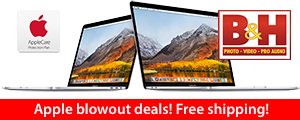 2018 13" Touch Bars
Price
Save
2.3GHz/8GB/256GB (Gray)
$1,649.99+
$150
2.3GHz/8GB/512GB (Silver)
$1,849.00+
$150
2.3GHz/16GB/256GB (Gray)
$1,949.00+
$50
2.7GHz/16GB/512GB
$2,449.00+
$50
2.7GHz/16GB/1TB
$2,849.00+
$50
2018 15" MacBook Pros
Price
Save
2.2GHz/16/256GB/555X
$2,099.00+
$300
2.6GHz/16/512GB/560X
$2,399.00+
$400
2.9GHz/16/1TB/560X
$3,199.00+
$300
2.9GHz/32/2TB/560X (Gray)
$3,999.00+
$700
tr class="model">
2.9GHz/32/4TB/560X (Gray)
$5,999.00+
$700
Click here for dozens more configurations
+ Free shipping within the contiguous U.S.
Lowest Prices Anywhere!

13" MacBook Pros
Price
You Save
3.1GHz/8GB/256GB Gray
$1,679.00
$120.00
3.1GHz/8GB/256GB Silver
$1,704.00*
$95.00
3.1GHz/8GB/512GB Gray
$1,849.00*
$150.00
3.1GHz/16/512GB Gray
$2,099.00
$100.00
15" MacBook Pro
Price
You Save
2.8GHz/16/256/555 Silver
$2,199.00*
$200.00
2.8GHz/16/256/560 Gray
$2,299.00
$200.00
2.9GHz/16/512/560 Gray
$2,599.00
$200.00
2.9GHz/16/1TB/560 Gray
$2,999.00
$200.00
3.1GHz/16/512/560 Gray
$2,799.00
$200.00
3.1GHz/16/2TB/560 Gray
$3,899.00
$300.00

*

price with Promo Code:

APINSIDER

prices.appleinsider.com for more configurations