Apple updates Safari to version 6.1 for Mountain Lion users
By Shane Cole
Tuesday, October 22, 2013, 02:14 pm PT (05:14 pm ET)
Mac owners who will not be taking advantage of the free upgrade to Mavericks can nonetheless enjoy some of updates Apple has made to their Safari web browser.




Safari 6.1 for OS X Moutain Lion brings some of the browing features touted for Mavericks to Apple's previous generation operating system.

The sidebar, with its new Twitter Shared Links function and consolidated Bookmarks and Reading list interfaces, comes over alongside the new "Add to" menu on the left side of Safari's address bar.

Safari Power Saver also trickles down to Mountain Lion. Power Saver helps increase battery life by only directing processing resources to content that is in the foreground. Flash animations on hidden tabs, for example, would not be actively processed until their tab is selected.

Safari 6.1 is available as an update from the Mac App Store now.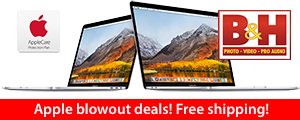 2018 13" Touch Bars
Price
Save
2.3GHz/8GB/256GB (Gray)
$1,699.00+
$100
2.3GHz/8GB/512GB (Silver)
$1,879.00+
$20
2.3GHz/16GB/512GB (Gray)
$2,099.00+
$100
2.7GHz/16GB/512GB
$2,449.00+
$50
2.7GHz/16GB/1TB
$2,849.00+
$50
2018 15" MacBook Pros
Price
Save
2.2GHz/16/256GB/555X
$2,215.00+
$185
2.2GHz/32/1TB/560X
$3,449.00+
$50
2.6GHz/16/512GB/560X
$2,575.00+
$224
2.6GHz/16/1TB/560X (Gray)
$2,999.00+
$200
2.6GHz/32/1TB/560X (Gray)
$3,399.00+
$200
2.6GHz/32/2TB/560X (Gray)
$3,999.00+
$400
Click here for dozens more configurations
+ Free shipping within the contiguous U.S.
Lowest Prices Anywhere!

13" MacBook Pros
Price
You Save
3.1GHz/8GB/256GB Gray
$1,679.00
$120.00
3.1GHz/8GB/256GB Silver
$1,704.00*
$95.00
3.1GHz/8GB/512GB Gray
$1,849.00*
$150.00
3.1GHz/16/512GB Gray
$2,099.00
$100.00
15" MacBook Pro
Price
You Save
2.8GHz/16/256/555 Silver
$2,199.00*
$200.00
2.8GHz/16/256/560 Gray
$2,299.00
$200.00
2.9GHz/16/512/560 Gray
$2,599.00
$200.00
2.9GHz/16/1TB/560 Gray
$2,999.00
$200.00
3.1GHz/16/512/560 Gray
$2,799.00
$200.00
3.1GHz/16/2TB/560 Gray
$3,899.00
$300.00

*

price with Promo Code:

APINSIDER

prices.appleinsider.com for more configurations