Jeep joins support for Apple CarPlay with 2017 Compass
By Roger Fingas
Friday, November 18, 2016, 11:08 am PT (02:08 pm ET)
At this week's Los Angeles Auto Show, Fiat Chrysler's Jeep division revealed its first vehicle with support for Apple CarPlay built in, the 2017 Compass.




The SUV will support both CarPlay and Android Auto through a fourth-generation Uconnect dash interface. Notably buyers will have the option of 5-, 7-, or 8.4-inch touchscreens, making it easier to use the phone interfaces at a price.

In its announcement, Jeep didn't immediately say when the vehicle will become available, or how much different trims and upgrades might cost.

Jeep was actually one of the first companies to announce plans for CarPlay in 2014, but slow to deliver for reasons unknown. Indeed while some other Fiat Chrysler brands —namely Dodge and Chrysler —do have CarPlay models, there aren't many, and even Fiat itself doesn't offer the technology on 2016 500 models.
Today's Headlines
No news headlines yet today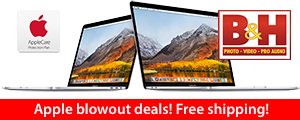 2018 13" Touch Bars
Price
Save
2.3GHz/8GB/256GB (Gray)
$1,649.99+
$150
2.3GHz/8GB/512GB (Silver)
$1,849.00+
$150
2.3GHz/16GB/256GB (Gray)
$1,949.00+
$50
2.7GHz/16GB/512GB
$2,449.00+
$50
2.7GHz/16GB/1TB
$2,849.00+
$50
2018 15" MacBook Pros
Price
Save
2.2GHz/16/256GB/555X
$2,099.00+
$300
2.6GHz/16/512GB/560X
$2,399.00+
$400
2.9GHz/16/1TB/560X
$3,199.00+
$300
2.9GHz/32/2TB/560X (Gray)
$3,999.00+
$700
tr class="model">
2.9GHz/32/4TB/560X (Gray)
$5,999.00+
$700
Click here for dozens more configurations
+ Free shipping within the contiguous U.S.
Lowest Prices Anywhere!

13" MacBook Pros
Price
You Save
3.1GHz/8GB/256GB Gray
$1,679.00
$120.00
3.1GHz/8GB/256GB Silver
$1,704.00*
$95.00
3.1GHz/8GB/512GB Gray
$1,849.00*
$150.00
3.1GHz/16/512GB Gray
$2,099.00
$100.00
15" MacBook Pro
Price
You Save
2.8GHz/16/256/555 Silver
$2,199.00*
$200.00
2.8GHz/16/256/560 Gray
$2,299.00
$200.00
2.9GHz/16/512/560 Gray
$2,599.00
$200.00
2.9GHz/16/1TB/560 Gray
$2,999.00
$200.00
3.1GHz/16/512/560 Gray
$2,799.00
$200.00
3.1GHz/16/2TB/560 Gray
$3,899.00
$300.00

*

price with Promo Code:

APINSIDER

prices.appleinsider.com for more configurations