First watchOS 4.3 beta made available for developer testing
By Mike Wuerthele
Thursday, January 25, 2018, 10:12 am PT (01:12 pm ET)
Apple on Thursday issued a developer's beta for watchOS 4.3, adding to the slew of Wednesday's test releases, though what exactly is in the update remains a mystery.




There are no notes associated with the watchOS beta. At present it is unknown what it contains, beyond bug fixes. Expected are the first moves towards AirPlay 2 compatibility.

The build number on the beta is 15T5165e. The way Apple's build numbers work for beta test releases as compared to the previous release lead to no easy comparison between the two to signify any magnitude of changes.

Apple took a two-step approach to Wednesday's iOS 11.3 update, pre-announcing it link textin the morning, before a release at its customary time.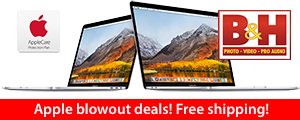 2018 13" Touch Bars
Price
Save
2.3GHz/8GB/256GB (Gray)
$1,699.00+
$100
2.3GHz/8GB/512GB (Silver)
$1,879.00+
$20
2.3GHz/16GB/512GB (Gray)
$2,099.00+
$100
2.7GHz/16GB/512GB
$2,449.00+
$50
2.7GHz/16GB/1TB
$2,849.00+
$50
2018 15" MacBook Pros
Price
Save
2.2GHz/16/256GB/555X
$2,215.00+
$185
2.2GHz/32/1TB/560X
$3,449.00+
$50
2.6GHz/16/512GB/560X
$2,575.00+
$224
2.6GHz/16/1TB/560X (Gray)
$2,999.00+
$200
2.6GHz/32/1TB/560X (Gray)
$3,399.00+
$200
2.6GHz/32/2TB/560X (Gray)
$3,999.00+
$400
Click here for dozens more configurations
+ Free shipping within the contiguous U.S.
Lowest Prices Anywhere!

13" MacBook Pros
Price
You Save
3.1GHz/8GB/256GB Gray
$1,679.00
$120.00
3.1GHz/8GB/256GB Silver
$1,704.00*
$95.00
3.1GHz/8GB/512GB Gray
$1,849.00*
$150.00
3.1GHz/16/512GB Gray
$2,099.00
$100.00
15" MacBook Pro
Price
You Save
2.8GHz/16/256/555 Silver
$2,199.00*
$200.00
2.8GHz/16/256/560 Gray
$2,299.00
$200.00
2.9GHz/16/512/560 Gray
$2,599.00
$200.00
2.9GHz/16/1TB/560 Gray
$2,999.00
$200.00
3.1GHz/16/512/560 Gray
$2,799.00
$200.00
3.1GHz/16/2TB/560 Gray
$3,899.00
$300.00

*

price with Promo Code:

APINSIDER

prices.appleinsider.com for more configurations