Apple's Cook uses photos from India's Holi festival to promote iPhone X
By Roger Fingas
Friday, March 02, 2018, 11:05 am PT (02:05 pm ET)
To promote the rear camera on the iPhone X, Apple CEO Tim Cook took to Twitter on Friday to share three photos from the Indian festival of Holi.




The images were shot in Nandgaon, Vrindavan, and Bengaluru, and show people covered in the colored dust the festival is known for. Each are by separate photographers —Prashanth Viswanathan, Amit Mehra, and Ashish Parmar.

Mehra's Twitter profile shows him alongside Cook, while Parmar's includes a still used in a previous "Shot on iPhone" campaign for the iPhone 6s.





Apple has long made cameras a centerpiece of its iPhone marketing and development. That's been taken a step further with the iPhone X, which the company is now promoting for its augmented reality capabilities, as well as the Face ID and animoji technology made possible by the front-facing TrueDepth system.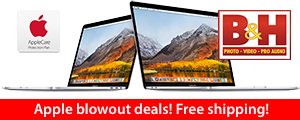 2018 13" Touch Bars
Price
Save
2.3GHz/8GB/256GB (Gray)
$1,699.00+
$100
2.3GHz/8GB/512GB (Silver)
$1,879.00+
$20
2.3GHz/16GB/512GB (Gray)
$2,099.00+
$100
2.7GHz/16GB/512GB
$2,449.00+
$50
2.7GHz/16GB/1TB
$2,849.00+
$50
2018 15" MacBook Pros
Price
Save
2.2GHz/16/256GB/555X
$2,215.00+
$185
2.2GHz/32/1TB/560X
$3,449.00+
$50
2.6GHz/16/512GB/560X
$2,575.00+
$224
2.6GHz/16/1TB/560X (Gray)
$2,999.00+
$200
2.6GHz/32/1TB/560X (Gray)
$3,399.00+
$200
2.6GHz/32/2TB/560X (Gray)
$3,999.00+
$400
Click here for dozens more configurations
+ Free shipping within the contiguous U.S.
Lowest Prices Anywhere!

13" MacBook Pros
Price
You Save
3.1GHz/8GB/256GB Gray
$1,679.00
$120.00
3.1GHz/8GB/256GB Silver
$1,704.00*
$95.00
3.1GHz/8GB/512GB Gray
$1,849.00*
$150.00
3.1GHz/16/512GB Gray
$2,099.00
$100.00
15" MacBook Pro
Price
You Save
2.8GHz/16/256/555 Silver
$2,199.00*
$200.00
2.8GHz/16/256/560 Gray
$2,299.00
$200.00
2.9GHz/16/512/560 Gray
$2,599.00
$200.00
2.9GHz/16/1TB/560 Gray
$2,999.00
$200.00
3.1GHz/16/512/560 Gray
$2,799.00
$200.00
3.1GHz/16/2TB/560 Gray
$3,899.00
$300.00

*

price with Promo Code:

APINSIDER

prices.appleinsider.com for more configurations