Apple grows carrier billing options in UK, France, Germany & other European nations
By Roger Fingas
Tuesday, March 20, 2018, 05:53 am PT (08:53 am ET)
People wanting to take advantage of carrier billing for Apple Music, the App Store, and other Apple online services now have further options in several European countries.




New eligible carriers include the U.K.'s EE, the French and Spanish branches of Orange, and Deutsche Telekom/T-Mobile in Austria, Slovakia, the Czech Republic, and the company's German home. Choosing carrier billing adds Apple purchases to a monthly phone bill, instead of requiring per-item card payments.

Carrier billing can be a popular choice in countries that are normally averse to paying with credit, letting people use checks or even cash. It can be set up through iTunes or the App Store.

Apple has been gradually stretching out the option's reach —some other supporting regions include Belgium, Japan, Russia, Sweden, and Turkey. Conspicuously absent so far is anywhere in North America, even the United States.
Today's Headlines
No news headlines yet today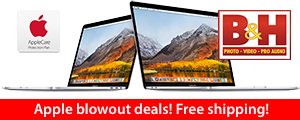 2018 13" Touch Bars
Price
Save
2.3GHz/8GB/256GB (Gray)
$1,699.00+
$100
2.3GHz/8GB/512GB (Silver)
$1,879.00+
$20
2.3GHz/16GB/512GB (Gray)
$2,099.00+
$100
2.7GHz/16GB/512GB
$2,449.00+
$50
2.7GHz/16GB/1TB
$2,849.00+
$50
2018 15" MacBook Pros
Price
Save
2.2GHz/16/256GB/555X
$2,215.00+
$185
2.2GHz/32/1TB/560X
$3,449.00+
$50
2.6GHz/16/512GB/560X
$2,575.00+
$224
2.6GHz/16/1TB/560X (Gray)
$2,999.00+
$200
2.6GHz/32/1TB/560X (Gray)
$3,399.00+
$200
2.6GHz/32/2TB/560X (Gray)
$3,999.00+
$400
Click here for dozens more configurations
+ Free shipping within the contiguous U.S.
Lowest Prices Anywhere!

13" MacBook Pros
Price
You Save
3.1GHz/8GB/256GB Gray
$1,679.00
$120.00
3.1GHz/8GB/256GB Silver
$1,704.00*
$95.00
3.1GHz/8GB/512GB Gray
$1,849.00*
$150.00
3.1GHz/16/512GB Gray
$2,099.00
$100.00
15" MacBook Pro
Price
You Save
2.8GHz/16/256/555 Silver
$2,199.00*
$200.00
2.8GHz/16/256/560 Gray
$2,299.00
$200.00
2.9GHz/16/512/560 Gray
$2,599.00
$200.00
2.9GHz/16/1TB/560 Gray
$2,999.00
$200.00
3.1GHz/16/512/560 Gray
$2,799.00
$200.00
3.1GHz/16/2TB/560 Gray
$3,899.00
$300.00

*

price with Promo Code:

APINSIDER

prices.appleinsider.com for more configurations