Video: What's new in watchOS 4.3 for the Apple Watch, featuring portrait Nightstand mode, iPhone music controls and more
By Andrew O'Hara
Friday, March 30, 2018, 12:15 pm PT (03:15 pm ET)
The watchOS 4.3 update contains a few new features and tweaks aside from the multitude of bug fixes and performance improvements. Our hands-on video shows off what is new for Apple's wrist-worn device.




The biggest changes for the freshly released update include the return of iPhone music controls and (finally) portrait Nightstand mode. Portrait Nightstand mode is clearly a precursor for the AirPower charging mat Apple is on the cusp of releasing.

You can see all the changes in our hands-on video.



watchOS 4.3 was released alongside macOS 10.13.4, iOS 11.3, tvOS 11.3, and iPhone music controls return

New charging animation


Portrait Nighstand mode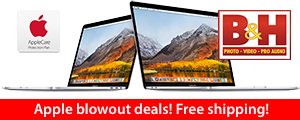 2018 13" Touch Bars
Price
Save
2.3GHz/8GB/256GB (Gray)
$1,699.00+
$100
2.3GHz/8GB/512GB (Silver)
$1,879.00+
$20
2.3GHz/16GB/512GB (Gray)
$2,099.00+
$100
2.7GHz/16GB/512GB
$2,449.00+
$50
2.7GHz/16GB/1TB
$2,849.00+
$50
2018 15" MacBook Pros
Price
Save
2.2GHz/16/256GB/555X
$2,215.00+
$185
2.2GHz/32/1TB/560X
$3,449.00+
$50
2.6GHz/16/512GB/560X
$2,575.00+
$224
2.6GHz/16/1TB/560X (Gray)
$2,999.00+
$200
2.6GHz/32/1TB/560X (Gray)
$3,399.00+
$200
2.6GHz/32/2TB/560X (Gray)
$3,999.00+
$400
Click here for dozens more configurations
+ Free shipping within the contiguous U.S.
Lowest Prices Anywhere!

13" MacBook Pros
Price
You Save
3.1GHz/8GB/256GB Gray
$1,679.00
$120.00
3.1GHz/8GB/256GB Silver
$1,704.00*
$95.00
3.1GHz/8GB/512GB Gray
$1,849.00*
$150.00
3.1GHz/16/512GB Gray
$2,099.00
$100.00
15" MacBook Pro
Price
You Save
2.8GHz/16/256/555 Silver
$2,199.00*
$200.00
2.8GHz/16/256/560 Gray
$2,299.00
$200.00
2.9GHz/16/512/560 Gray
$2,599.00
$200.00
2.9GHz/16/1TB/560 Gray
$2,999.00
$200.00
3.1GHz/16/512/560 Gray
$2,799.00
$200.00
3.1GHz/16/2TB/560 Gray
$3,899.00
$300.00

*

price with Promo Code:

APINSIDER

prices.appleinsider.com for more configurations