Rachio 3 sprinkler controller adds support for Apple's HomeKit
By Roger Fingas
Tuesday, September 25, 2018, 07:01 am PT (10:01 am ET)
Rachio on Tuesday announced that its Rachio 3 smart sprinkler controller now supports HomeKit, enabling control via Siri and the Mac, iOS, and watchOS Home apps.



Using the Home app, HomeKit setup should take "a matter of minutes," Rachio said. The company didn't immediately explain how owners would get necessary HomeKit codes.

The Rachio 3 is designed to control complex home irrigation systems. It's available in 8- and 16-zone versions, and via Wi-Fi connects to an iPhone app that enables scheduling, monitoring, and metering.

Support for sprinklers and faucets was added to HomeKit with last year's iOS 11, but to date relatively few accessories have taken advantage. The best known example is probably the Eve Aqua, which can turn a single faucet on or off.



An 8-zone Rachio 3 is $229.99, and the 16-zone model is $279.99. People installing the controller outdoors will have to add a $29 weatherproof enclosure.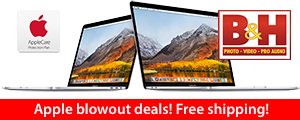 2018 13" Touch Bars
Price
Save
2.3GHz/8GB/256GB (Gray)
$1,699.00+
$100
2.3GHz/8GB/512GB (Silver)
$1,879.00+
$20
2.3GHz/16GB/512GB (Gray)
$2,099.00+
$100
2.7GHz/16GB/512GB
$2,449.00+
$50
2.7GHz/16GB/1TB
$2,849.00+
$50
2018 15" MacBook Pros
Price
Save
2.2GHz/16/256GB/555X
$2,215.00+
$185
2.2GHz/32/1TB/560X
$3,449.00+
$50
2.6GHz/16/512GB/560X
$2,575.00+
$224
2.6GHz/16/1TB/560X (Gray)
$2,999.00+
$200
2.6GHz/32/1TB/560X (Gray)
$3,399.00+
$200
2.6GHz/32/2TB/560X (Gray)
$3,999.00+
$400
Click here for dozens more configurations
+ Free shipping within the contiguous U.S.
Lowest Prices Anywhere!

13" MacBook Pros
Price
You Save
3.1GHz/8GB/256GB Gray
$1,679.00
$120.00
3.1GHz/8GB/256GB Silver
$1,704.00*
$95.00
3.1GHz/8GB/512GB Gray
$1,849.00*
$150.00
3.1GHz/16/512GB Gray
$2,099.00
$100.00
15" MacBook Pro
Price
You Save
2.8GHz/16/256/555 Silver
$2,199.00*
$200.00
2.8GHz/16/256/560 Gray
$2,299.00
$200.00
2.9GHz/16/512/560 Gray
$2,599.00
$200.00
2.9GHz/16/1TB/560 Gray
$2,999.00
$200.00
3.1GHz/16/512/560 Gray
$2,799.00
$200.00
3.1GHz/16/2TB/560 Gray
$3,899.00
$300.00

*

price with Promo Code:

APINSIDER

prices.appleinsider.com for more configurations