Last remaining AirPort Wi-Fi accessories no longer on sale from Apple
By Roger Fingas
Friday, November 16, 2018, 02:05 pm PT (05:05 pm ET)
Apple has stopped selling the last two products in its AirPort networking line, the AirPort Extreme and the Time Capsule, marking the end of an era.




The company officially discontinued those products and the AirPort Express in April, but said it would keep on selling remaining inventory until it was gone. The only way of getting one of the peripherals now is used or through a third-party vendor, as long they have their own stock.

Apple has promised continued software/firmware updates for the AirPort line in order to fix security and stability problems. An August update for the Express added AirPlay 2 support.

The company reportedly dissolved its AirPort division in 2016. Even at the time the development wasn't a surprise, as the AirPort Extreme and Time Capsule saw their last major refreshes in 2013, and the Express in 2012.

In place of its own Wi-Fi routers Apple has chosen to carry third-party models like the Linksys Velop.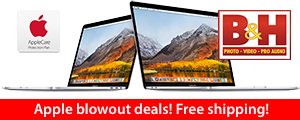 2018 13" Touch Bars
Price
Save
2.3GHz/8GB/256GB (Gray)
$1,699.00+
$100
2.3GHz/8GB/512GB (Silver)
$1,879.00+
$20
2.3GHz/16GB/512GB (Gray)
$2,099.00+
$100
2.7GHz/16GB/512GB
$2,449.00+
$50
2.7GHz/16GB/1TB
$2,849.00+
$50
2018 15" MacBook Pros
Price
Save
2.2GHz/16/256GB/555X
$2,215.00+
$185
2.2GHz/32/1TB/560X
$3,449.00+
$50
2.6GHz/16/512GB/560X
$2,575.00+
$224
2.6GHz/16/1TB/560X (Gray)
$2,999.00+
$200
2.6GHz/32/1TB/560X (Gray)
$3,399.00+
$200
2.6GHz/32/2TB/560X (Gray)
$3,999.00+
$400
Click here for dozens more configurations
+ Free shipping within the contiguous U.S.
Lowest Prices Anywhere!

13" MacBook Pros
Price
You Save
3.1GHz/8GB/256GB Gray
$1,679.00
$120.00
3.1GHz/8GB/256GB Silver
$1,704.00*
$95.00
3.1GHz/8GB/512GB Gray
$1,849.00*
$150.00
3.1GHz/16/512GB Gray
$2,099.00
$100.00
15" MacBook Pro
Price
You Save
2.8GHz/16/256/555 Silver
$2,199.00*
$200.00
2.8GHz/16/256/560 Gray
$2,299.00
$200.00
2.9GHz/16/512/560 Gray
$2,599.00
$200.00
2.9GHz/16/1TB/560 Gray
$2,999.00
$200.00
3.1GHz/16/512/560 Gray
$2,799.00
$200.00
3.1GHz/16/2TB/560 Gray
$3,899.00
$300.00

*

price with Promo Code:

APINSIDER

prices.appleinsider.com for more configurations