New iPhone XS & iPhone XR ad sells Portrait Mode's background blur
By Roger Fingas
Thursday, February 07, 2019, 12:48 pm PT (03:48 pm ET)
Apple on Thursday premiered its latest iPhone ad, trumpeting Portrait Mode on both the XS and the XR.




The 38-second spot, now on YouTube, consists mostly of a long pullout shot depicting a chaotic scene in New York City with rats, welding sparks, and an argument with a cab driver. It ultimately settles on a woman getting her photo taken, and an unseen shooter using Portrait Mode's simulated bokeh — known as Depth Control — to mask the reality of her surroundings.

The ad is a rare example of Apple selling two iPhone models at the same time. Recent ads have focused either on the XS or the XR.



The XR is Apple's first single-lens device to offer Portrait Mode, using algorithms alone to calculate depth. While the mode has been around since 2016, it was previously limited to iPhones with dual-lens cameras. In that case a telephoto lens captures the subject, while a wide-angle lens snaps the broader scene, using that as a reference point.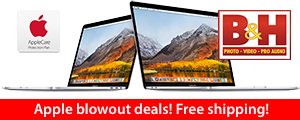 2017 12" MacBooks
Price
Save
1.2GHz/8GB/256GB (Gold)
$799.00+
$500
1.2GHz/8GB/256GB (Rose Gold)
$799.00+
$500
2018 13" Touch Bars
Price
Save
2.3GHz/8GB/256GB (Gray)
$1,649.99+
$150
2.3GHz/8GB/512GB (Silver)
$1,879.00+
$120
2.3GHz/16GB/256GB (Gray)
$1,949.00+
$50
2.7GHz/16GB/512GB
$2,449.00+
$50
2.7GHz/16GB/1TB
$2,849.00+
$50
2018 15" MacBook Pros
Price
Save
2.2GHz/16/256GB/555X
$2,549.00+
$50
2.2GHz/16/512GB/555X
$2,575.00+
$225
2.9GHz/16/1TB/560X
$3,199.00+
$300
2.9GHz/32/2TB/560X (Gray)
$3,999.00+
$700
2.9GHz/32/4TB/560X (Gray)
$5,999.00+
$700
Click here for dozens more configurations
+ Free shipping within the contiguous U.S.
Lowest Prices Anywhere!

13" MacBook Pros
Price
You Save
3.1GHz/8GB/256GB Gray
$1,679.00
$120.00
3.1GHz/8GB/256GB Silver
$1,704.00*
$95.00
3.1GHz/8GB/512GB Gray
$1,849.00*
$150.00
3.1GHz/16/512GB Gray
$2,099.00
$100.00
15" MacBook Pro
Price
You Save
2.8GHz/16/256/555 Silver
$2,199.00*
$200.00
2.8GHz/16/256/560 Gray
$2,299.00
$200.00
2.9GHz/16/512/560 Gray
$2,599.00
$200.00
2.9GHz/16/1TB/560 Gray
$2,999.00
$200.00
3.1GHz/16/512/560 Gray
$2,799.00
$200.00
3.1GHz/16/2TB/560 Gray
$3,899.00
$300.00

*

price with Promo Code:

APINSIDER

prices.appleinsider.com for more configurations