iWatch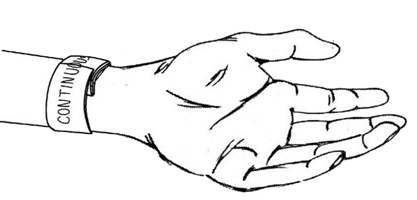 Summary
Apple is heavily rumored to be planning to unveil a wrist-worn accessory, dubbed the "iWatch," later this year. The device is expected to connect to the iPhone and will measure fitness and health information from the wearer.
Features
Apple's anticipated iWatch is rumored to:
Have two sizes for men and women
Be able to measure pulse and motion
Utilize new iPhone features in iOS 8
Go on sale in late 2014
Rumor summary
iWatch concept by Todd Hamilton
Apple is said to be working on a wrist-worn device that would go far beyond telling time, allowing users to measure and track health and fitness data with a new wearable device. The company has filed in numerous countries for ownership of the name "iWatch," and as such the rumored product is commonly referred to by that moniker.
Apple's iWatch is expected be able to operate independently of an iPhone or iPad, but is also rumored to feature functions that are iOS-exclusive like health monitoring apps.
The device is said to come in two sizes, with screens between 1.3 and 1.5 inches, allowing designs for both men and women. Some rumors have claimed Apple will adopt a flexible AMOLED display with a sapphire glass cover, allowing for a comfortable yet durable design.
However, specifics on exactly how the device might appear, or what functions it will actually be able to accomplish, remain unknown. The iWatch, if it ever becomes a reality, is truly Apple's next big thing, an anticipated secret device in the same class as the first iPhone or iPad.
Reports have suggested the iWatch will debut this fall and go on sale in time for the holiday shopping season.
Patents, trademarks & hires
AppleInsider was first to discover an Apple patent filing describing a watch design with flexible display.
Last year, it was revealed that Apple had specifically applied for ownership of the product name "iWatch." It's possible that Apple has been acquiring the rights to the name iWatch around the world under its own name as well as through dummy corporations such as "Brightflash."
The company has even updated its trademark for the name Apple itself, expanding the company's product categories to "Class 14 (Jewelry)."
Apple has even gone as far as to file patent applications for inventions that describe a wrist-worn device with a flexible touchscreen display. Apple's filings describe a device that would conform to a user's body through the use of a "slap bracelet" mechanism.
Finally, Apple has also hired a number of personnel from the industries of fashion, fitness and medicine, leading many to speculate that those three categories will represent the key functions of an iWatch.
Mockups & concepts
No one actually knows what an Apple iWatch would look like, but enthusiasts have attempted to dream up how they believe the company might design such a device. Some of those concepts are included here.
"iWatch" concept render by Martin Hajek.
Essential reading