App Store audience hits 30 million users, 13M iPod touches sold
By Prince McLean
Tuesday, March 17, 2009, 10:00 am PT (01:00 pm ET)
At its preview of the new iPhone 3.0 platform, Apple has finally revealed sales figures for iPhones and iPod touch units together: 30 million devices. The company noted that it has sold 17 million iPhones, leaving 13 million iPod touch sales.

The presentation by Greg Joswiak, Apple's VP of product marketing for iPods and iPhones, also detailed that Apple has shipped 800,000,000 apps from iTunes in the first eight months, which is well ahead of the previous pace to reach a billion apps in its first year. In comparison, it took Apple two years to reach its first billion song downloads.

Joswiak said the store now boasts 25,000 titles and has signed up 50,000 companies in the iPhone developer program. He said 80% had never developed mobile software before.

He added that Apple has managed to approve 96% of apps submitted this month, and that 98% of those apps were approved in less than 7 days.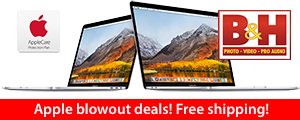 2018 13" Touch Bars
Price
Save
2.3GHz/8GB/256GB (Gray)
$1,649.99+
$150
2.3GHz/8GB/512GB (Silver)
$1,879.00+
$120
2.3GHz/16GB/256GB (Gray)
$1,949.00+
$50
2.7GHz/16GB/512GB
$2,449.00+
$50
2.7GHz/16GB/1TB
$2,849.00+
$50
2018 15" MacBook Pros
Price
Save
2.2GHz/16/256GB/555X
$2,549.00+
$50
2.2GHz/16/512GB/555X
$2,575.00+
$225
2.9GHz/16/1TB/560X
$3,199.00+
$300
2.9GHz/32/2TB/560X (Gray)
$3,999.00+
$700
2.9GHz/32/4TB/560X (Gray)
$5,999.00+
$700
Click here for dozens more configurations
+ Free shipping within the contiguous U.S.
Lowest Prices Anywhere!

13" MacBook Pros
Price
You Save
3.1GHz/8GB/256GB Gray
$1,679.00
$120.00
3.1GHz/8GB/256GB Silver
$1,704.00*
$95.00
3.1GHz/8GB/512GB Gray
$1,849.00*
$150.00
3.1GHz/16/512GB Gray
$2,099.00
$100.00
15" MacBook Pro
Price
You Save
2.8GHz/16/256/555 Silver
$2,199.00*
$200.00
2.8GHz/16/256/560 Gray
$2,299.00
$200.00
2.9GHz/16/512/560 Gray
$2,599.00
$200.00
2.9GHz/16/1TB/560 Gray
$2,999.00
$200.00
3.1GHz/16/512/560 Gray
$2,799.00
$200.00
3.1GHz/16/2TB/560 Gray
$3,899.00
$300.00

*

price with Promo Code:

APINSIDER

prices.appleinsider.com for more configurations