iPod Revisions and Proprietary Headphone Jacks?
By AppleInsider Staff
Wednesday, October 01, 2003, 08:05 am PT (11:05 am ET)
In a followup to our initial report on future generation iPods, one source recently commented on the possible addition of a proprietary headphone jack to the iPod product line. Albeit via unconfirmed information from a primary informant, the modification would reduce the thickness of an iPod by a number of millimeters, the source said.

Proprietary headphone jacks on consumer electronics have traditionally been met with poor reviews and are considered to be a disadvantage. According to the source, the Apple design would allow standard headphones to plug into a jack on a revised iPod remote, which would connect to the proprietary jack.

Although the source claims this feature is 'rumored' for a possible iPod revision prior to the next generation models, the information should be regarded strictly as a rumor.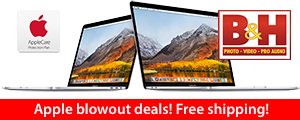 Lowest Prices Anywhere!