New Apple iLife on Target For January
By < a href=\"mailto:[email protected]\">Katie Marsal
Monday, October 27, 2003, 10:30 am PT (01:30 pm ET)
Apple Computer plans to roll-out a new version of their award winning iLife digital software suite during the first month of next year, sources tell AppleInsider. An unconfirmed rumor implies that iTunes 5.0 will be available for Mac OS X users prior to being deployed for Windows. The updated iLife package will also include a speedier version of iPhoto and major updates to iMovie and iDVD.

Likewise, the company is working on a major upgrade to their presentation software via Keynote 2.0. The release is also rumored for early next year, but is said to be part of a looser development schedule to prevent it from intertwining with the release of an Apple-branded word processor application, among other things.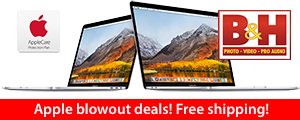 2018 13" Touch Bars
Price
Save
2.3GHz/8GB/256GB (Gray)
$1,649.99+
$150
2.3GHz/8GB/512GB (Silver)
$1,879.00+
$120
2.3GHz/16GB/256GB (Gray)
$1,949.00+
$50
2.7GHz/16GB/512GB
$2,449.00+
$50
2.7GHz/16GB/1TB
$2,849.00+
$50
2018 15" MacBook Pros
Price
Save
2.2GHz/16/256GB/555X
$2,549.00+
$50
2.2GHz/16/512GB/555X
$2,575.00+
$225
2.9GHz/16/1TB/560X
$3,199.00+
$300
2.9GHz/32/2TB/560X (Gray)
$3,999.00+
$700
2.9GHz/32/4TB/560X (Gray)
$5,999.00+
$700
Click here for dozens more configurations
+ Free shipping within the contiguous U.S.
Lowest Prices Anywhere!

13" MacBook Pros
Price
You Save
3.1GHz/8GB/256GB Gray
$1,679.00
$120.00
3.1GHz/8GB/256GB Silver
$1,704.00*
$95.00
3.1GHz/8GB/512GB Gray
$1,849.00*
$150.00
3.1GHz/16/512GB Gray
$2,099.00
$100.00
15" MacBook Pro
Price
You Save
2.8GHz/16/256/555 Silver
$2,199.00*
$200.00
2.8GHz/16/256/560 Gray
$2,299.00
$200.00
2.9GHz/16/512/560 Gray
$2,599.00
$200.00
2.9GHz/16/1TB/560 Gray
$2,999.00
$200.00
3.1GHz/16/512/560 Gray
$2,799.00
$200.00
3.1GHz/16/2TB/560 Gray
$3,899.00
$300.00

*

price with Promo Code:

APINSIDER

prices.appleinsider.com for more configurations