iPod Camera Connector revealed at Apple briefing
By Kasper Jade and Katie Marsal
Sunday, February 27, 2005, 12:00 pm PT (03:00 pm ET)
Representatives from Apple Japan on Friday held a press briefing on the company\'s new iPod offerings, a couple of tipsters have told AppleInsider. The presentation included a keynote slide with (what appears to be) a photo of Apple's new iPod Camera Connector.




The device, which was previously described by Apple vice president Greg Joswiak, looks like a small port convertor, approximately 2-inch is length and an inch or so in width. It connects to the base of the iPod photo through the Dock connector. On the other end is a female USB port for connecting a digital camera. The iPod Camera Connector is expected to be available in late March for $29.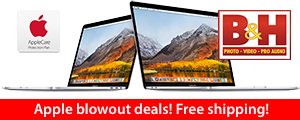 2018 13" Touch Bars
Price
Save
2.3GHz/8GB/256GB (Gray)
$1,649.99+
$150
2.3GHz/8GB/512GB (Silver)
$1,879.00+
$120
2.3GHz/16GB/256GB (Gray)
$1,949.00+
$50
2.7GHz/16GB/512GB
$2,449.00+
$50
2.7GHz/16GB/1TB
$2,849.00+
$50
2018 15" MacBook Pros
Price
Save
2.2GHz/16/256GB/555X
$2,549.00+
$50
2.2GHz/16/512GB/555X
$2,575.00+
$225
2.9GHz/16/1TB/560X
$3,199.00+
$300
2.9GHz/32/2TB/560X (Gray)
$3,999.00+
$700
2.9GHz/32/4TB/560X (Gray)
$5,999.00+
$700
Click here for dozens more configurations
+ Free shipping within the contiguous U.S.
Lowest Prices Anywhere!

13" MacBook Pros
Price
You Save
3.1GHz/8GB/256GB Gray
$1,679.00
$120.00
3.1GHz/8GB/256GB Silver
$1,704.00*
$95.00
3.1GHz/8GB/512GB Gray
$1,849.00*
$150.00
3.1GHz/16/512GB Gray
$2,099.00
$100.00
15" MacBook Pro
Price
You Save
2.8GHz/16/256/555 Silver
$2,199.00*
$200.00
2.8GHz/16/256/560 Gray
$2,299.00
$200.00
2.9GHz/16/512/560 Gray
$2,599.00
$200.00
2.9GHz/16/1TB/560 Gray
$2,999.00
$200.00
3.1GHz/16/512/560 Gray
$2,799.00
$200.00
3.1GHz/16/2TB/560 Gray
$3,899.00
$300.00

*

price with Promo Code:

APINSIDER

prices.appleinsider.com for more configurations