Oprah and Bono to unveil Product Red iPod nano tomorrow [images]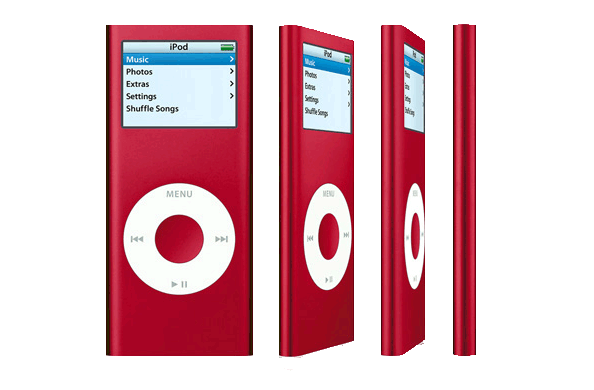 AppleInsider is supported by its audience and may earn commission as an Amazon Associate and affiliate partner on qualifying purchases. These affiliate partnerships do not influence our editorial content.
Exclusive: Activist and rock singer Bono, with help from Oprah Winfrey and other celebrities, is partnering with Apple Computer on a red-colored iPod to promote his new charity aimed at battling AIDS, AppleInsider has learned.
Both the U2 frontman and the famed talk show host will publicly unveil the new "iPod nano Red" — a 4GB version of Apple's second-generation iPod nano in a red anodized aluminum enclosure — on national television this friday.
The two celebrities swung by Apple's North Michigan Ave. retail store in Chicago, Ill. on Thursday afternoon to film a promotional segment for the cause, which will air on tomorrow's edition of the "The Oprah Winfrey Show."
Apple, which has agreed to price the player inline with its existing 4GB iPod nano models at $199, will donate $10 from the sale of each unit to the PRODUCT RED charity.
Created by Bono and Bobby Shriver, Chairman of DATA, the charity aims to raise awareness and money for The Global Fund by teaming up with the world's most iconic brands to produce PRODUCT RED branded products.
Proceeds from the sale of each PRODUCT RED product are donated to The Global Fund, where it goes to help women and children affected by HIV/AIDS in Africa.
Rumors of a red-colored iPod first surfaced when a note in the Jan. 20, 2006 edition of the popular celebrity gossip newsletter stated that Bono was overheard at Dublin's Michelin-starred Patrick Guilbaud restaurant "discussing a new charity red AmEx card and red iPod."
Other companies that have so far stepped up with PRODUCT RED offerings include the Gap, American Express, Armani, Converse, and Motorola.
Artist rendition of PRODUCT RED iPod Nano (Click-Wheel may also be colored red). Thanks DeaPeaJay.
Update: The Chicago Tribune has posted a photo of Bono, Oprah and the rear of a few RED iPods. 6:00PM ET
Update: Added photo from Apple Store Fifth Ave. 6:15PM ET