Apple adds 8GB (PRODUCT) RED iPod nano at $249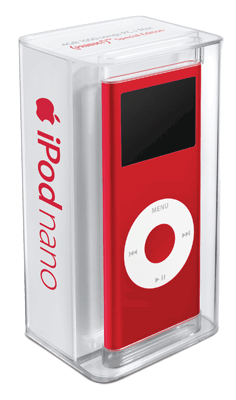 Apple Computer on Friday quietly introduced an 8GB version of its iPod nano (PRODUCT) RED digital music player, which is now available through the company's online store.
Like other second-generation iPod nanos, the new model includes an aluminum enclosure (in red) and features 24 hours of battery life, Apple's easy-to-use Click-Wheel and a thin and light design.
The player arrives at the same $249 price point as the existing 8GB second-generation iPod nano, which had previously been available only in black.
(PRODUCT) RED products such as the new iPod nano help benefit the (RED) charity created by Bobby Shriver and U2 lead singer Bono, which engages big businesses in the fight against AIDS in Africa.
A portion of the profits from the sale of (RED) products goes directly to the Global Fund to fund programs for women and children affected by the deadly disease.
Apple will contribute $10 from the sale of each 8GB iPod nano (PRODUCT) RED to the Global Fund. The Cupertino, Calif.-based company had previously announced a 4GB version of the player at $199 — which also generates a $10 donation — as well as a $25 iTunes (PRODUCT) RED gift card.
"Customer response to the iPod nano (PRODUCT) RED Special Edition has been off the charts," said Greg Joswiak, Apple's vice president of Worldwide iPod Product Marketing. "We're thrilled to add a second model with 8GB of capacity, enough for 2,000 songs, so customers have yet another choice in supporting this important cause."
The Global Fund to Fight AIDS, Tuberculosis and Malaria was established in 2002, with the support of the world's leaders and UN Secretary General Kofi Annan, to dramatically increase resources to fight three of the world's most devastating diseases, and to direct those resources to areas of greatest need by supporting locally-driven strategies.
To date, the Global Fund has committed $5.2 billion (US) to more than 363 programs in 131 countries.
The new 8GB iPod nano (PRODUCT) RED will be available through the Apple Store beginning today and in Apple's retail stores this weekend.. All iPod nano models include redesigned earbud headphones providing superior comfort, fit and sound quality, and a USB 2.0 cable. The second generation iPod nano features up to 24 hours of battery life and completely skip-free playback.