Mac OS X Leopard to sport next-gen DVD Player software (images)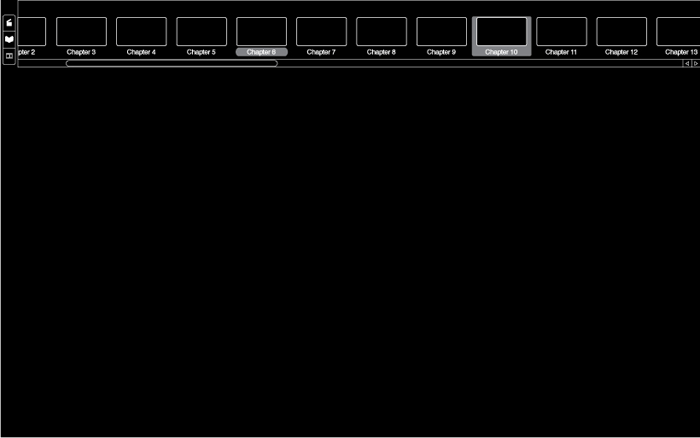 A major upgrade to Apple's DVD Player software due to ship with the upcoming Mac OS X 10.5 Leopard operating system release will pack oodles of new features wrapped in a sleekly overhauled user interface, AppleInsider has learned.
People familiar with the latest pre-release builds of Leopard confirm it to include DVD Player 5.0, a significant upgrade to the version include with Mac OS X Tiger in regards to both functionality and aesthetic.
Most prominent of enhancements is a sprawling fullscreen chapter navigation interface, set — like the remainder of the application's interface — in a pitch-black motif with satin platinum highlights.
Users of the software will no longer have to exit fullscreen mode to jump between chapters, those familiar with the software say. Instead, DVD Player 5.0 captures a screenshot of each chapter that it then displays in the new fullscreen navigation interface, which runs horizontal across the top of running flicks, fading in and out on the user's cue.
Similarly, Apple has built in a chapter navigation interface for when viewing films in window mode, which floats vertically in its own separate window.
Whether in fullscreen or window mode, the new version of DVD Player reportedly delivers a long sought after feature — a time bar for visual scrubbing and time jumping. It also features satin platinum highlights, as does a more refined and less cumbersome fullscreen bezel-interface controller.
Artist's rendition of DVD Player 5.0 fullscreen chapter interface
User interface characteristics aside, DVD Player 5.0 will include a plethora of other improvements sure to delight movie buffs. Those familiar with the software say a DVD audio equalizer is among the other new features aimed at enhancing the DVD experience on a Mac.
Meanwhile, new menu items that have cropped up in the application include "Viewer Above Other Apps," "Custom Jacket Picture," and sleep timer options.
Thus far, no documented support for HD-DVD or BluRay discs is apparent in the new player, though old HD settings/limits from previous versions reportedly remain valid.
DVD Player 5.0 and Mac OS X 10.5 Leopard are due to ship either this "spring" or "late first half of 2007," depending on which localized version of Apple's webpage you happen to be reading.