Glass-adorned Apple Store Sydney revealed (images)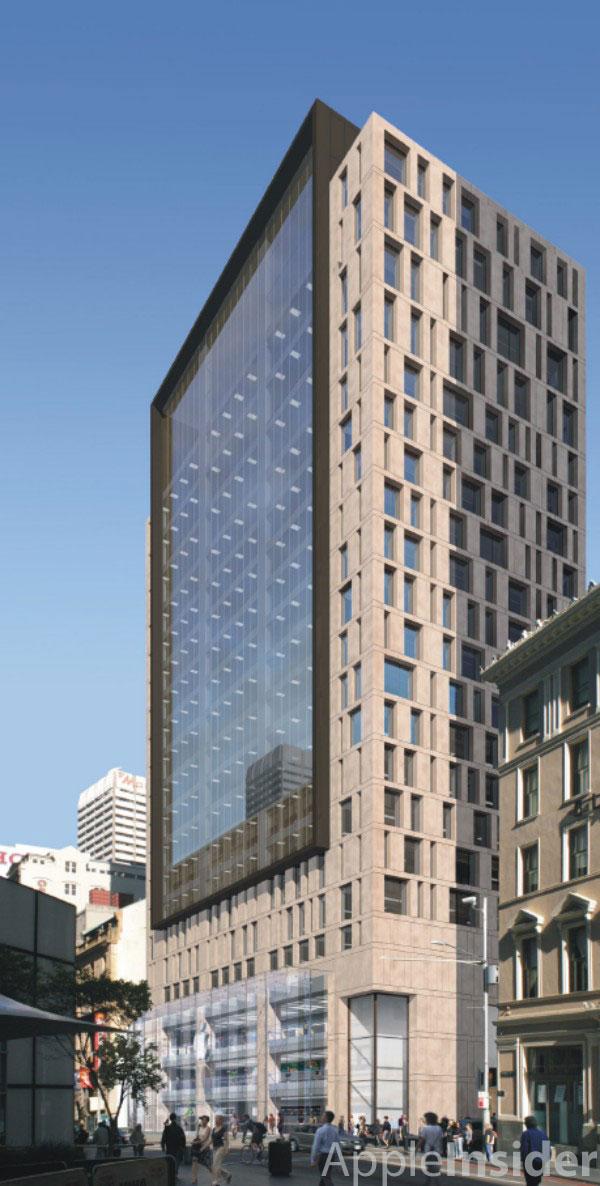 Apple's design proposal for its first retail store in Australia includes three floors at the base of Sydney sky-rise building just outside the spectacular maritime setting of the King Street Wharf.
The project, at the corner of King and George streets, is estimated to cost in excess of $15 million in renovations, AppleInsider has learned. Design renderings call for a protruding glass atrium to blanket the facade of all three floors, with a glowing 10-foot Apple logo suspended between levels two and three.
A set of schematic drawings compiled by Apple's architectural partner, Bohlin Cywinski Jackson, depict a wide but shallow retail mecca totaling some 15,000 square feet — about 5,000 square feet per floor. A trademark glass staircase appears to run lengthwise across the right rear.
Of the three floors, the first two will be dedicated to sales of Macs, iPods and other consumer electronics, according to the schematics. Meanwhile, the top floor will be reserved specifically for customer service and include a sprawling genius bar made of wood.
The documents show Apple to have retained the services of ISP Lighting Design to provide the luminescence, Eckersley O'Callaghan to construct the glass staircase, and Flack + Kurtz to tackle the electrical wiring.
Documents also indicate the Cupertino-based company has leased three other spaces within the building at 77 King Street, including a storage area and conference room.
It's unclear when Apple hopes to begin operations out of the location, which was first confirmed by the Sydney Morning Herald on Wednesday.
Architectural Rendering of Apple Store Sydney at 77 King St.