Upgrading Core Duo MacBooks with Apple 802.11n hardware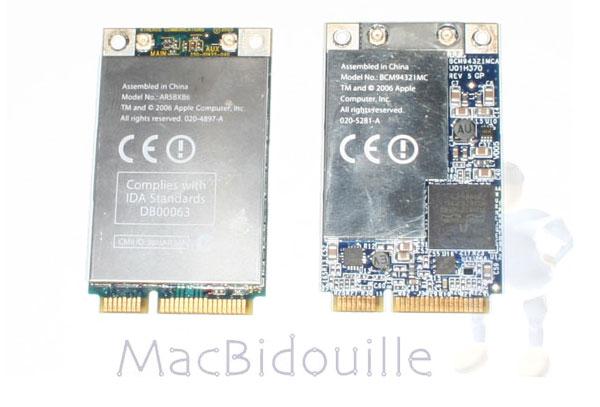 Owners of Apple's Core Duo Mac notebooks who are bummed over a lack of 802.11n wireless support within their systems may find some consolation in learning that they can overcome the limitation with some determined jury-rigging.
Although the majority of Apple's latest Core 2 Duo-based Macs (and Xeon-based Mac Pro) ship with wireless cards supporting a draft of the emerging wireless standard, the Core Duo models that preceded them did not.
For most users, condemnation of their Macs to the previous-generation 802.11g wireless specification isn't a big deal. That is, unless they're looking to adopt Apple's new AirPort Extreme 802.11n Wireless Base Station with its AirPort Disk feature.
While the new AirPort Extreme is backwards compatible with 802.11g, running it in hybrid 802.11g/802.11n mode immediately degrades performance of the wireless network for g-based devices. So the only logical solution, so say the clever gents over at MacBidouille, is to find a way to upgrade those Core Duo Macs with an 802.11n card. And that is exactly what they did.
In moving its Core Duo MacBook and MacBook Pro to Core 2 Duo models with support for 802.11n, Apple made a significant architectural change in that it shifted the internal wireless modules from a 2-antenna solution to a 3-antenna solution. Immediately that eliminates the possibility of dialing up an Apple repair specialist for an extra Core 2 Duo wireless module for the swap.
On the other hand, MacBidouille discovered that the 802.11n module in the Xeon-based Mac Pro was nearly identical — in terms of both connectivity and its 2-antenna configuration — to the modules that shipped with Core Duo MacBooks and MacBook Pros. A quick warranty-voiding disassembly later, the site's editors had swapped their MacBook's wireless card with one from a Mac Pro.
"After restarting the machine, the Airport module was recognized without any problems," the editors wrote in their explanation of the hack. "We put in the CD provided with the Airport [802.11n] base station, and it allowed us to install the new AirPort Utility as well as activate 802.11n without any difficulties."
Original Core Duo MacBook wireless module (left) and Mac Pro module (right)
Following the upgrade, which is also possible on the MacBook Pro, the 802.11n equipped Core Duo MacBook was reportedly able to sustained maximum transfer rates of 8.9 MB/s when interacting with another Mac which had been connected to the AirPort Extreme via Ethernet.
For those Core Duo Mac owners looking to follow suit in performing their own 802.11n surgery, one of the most challenging aspects may be obtaining a wireless module from the Mac Pro. But unlike the modules used in 802.11n MacBooks, which can only be obtained through exchange with Apple, those for the Mac Pro can be ordered through an Apple Authorized Repair Center.
Of course, an ensuing daunting task entails disassembling and then reassembling the MacBook without causing chaos. MacBidouille has posted step-by-step instructions for a 13-inch MacBook. However, users may find additional clarity in disassembly guides for the various MacBook and MacBook Pro models published by the upgrade specialists over at ifixit.