Briefly: Steve Jobs spotted with iPhone at kids sporting event?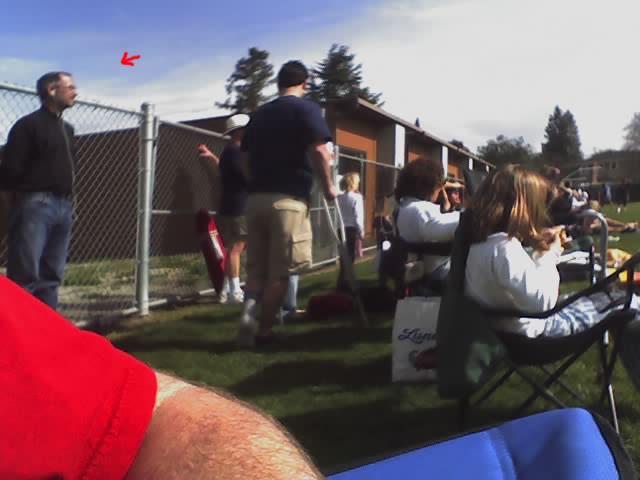 AppleInsider is supported by its audience and may earn commission as an Amazon Associate and affiliate partner on qualifying purchases. These affiliate partnerships do not influence our editorial content.
A photo that has recently cropped up on an image sharing website appears to show Apple chief executive Steve Jobs holding an iPhone conversation during a recent youth sporting event in California.
Admittedly, the photo tests the boundaries of what could be considered "news" and is also difficult to authenticate due to a slight motion blur. Nevertheless, it does appear to show the Apple co-founder, clad in his trademark blue jeans and black turtleneck, plugged into some form of electronics device.
"Yes, the photo is for real, and yes it is an iPhone that he was talking on, or at least it was the same size and shape," wrote the photographer, who goes by the tag name "thane" on image sharing website, Flickr. "He took it out of his pocket to make calls using the touchscreen."
Engaging viewers' question in the comments that accompanied the photo, thane went on to say that he could hear Jobs' side of the conversation, but admitted that wasn't paying much attention to what was said.
"I'm amazed that people find this so interesting. It's public information that they're developing the iPhone — I wasn't surprised to see him using one (presumably they're testing prototypes or something)," he wrote. "I just thought it was kind of cool that he was using one, pointed my cellphone in his general direction, and pressed the button."
A photo purportedly showing Apple CEO Steve Jobs using an touch-screen-based cell phone at a sporting event.