Apple finally rolls out 8-core Mac Pro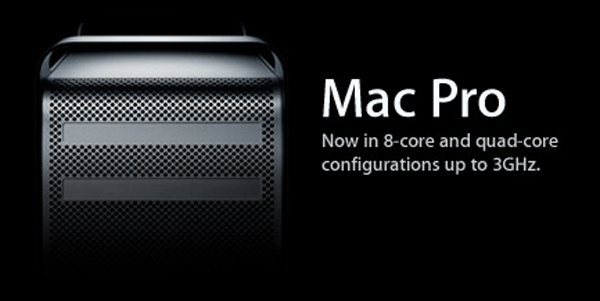 Apple Inc. on Wednesday quietly introduced a version of its Mac Pro professional workstation that sports 8 processor cores via two Intel Xeon quad-core microprocessors.
When purchasing a Mac Pro through the company's online store, customers can now choose to build their machines with a pair 3GHz quad-core "Clovertown" Xeons.
The 8-core Clovertown option adds $1,498 to the Mac Pro's base price of $2,499. The base system continues to offer quad-core computing via two 2.66GHz dual-core Intel Xeon "Woodcrest" processors. Woodcrest Mac Pro systems are also available for configuration with 2GHz and 3GHz chips.
Customers can configure the Mac Pro with over 4.9 million build-to-order options including: up to 16GB of 667 MHz DDR2 fully-buffered ECC memory; up to four 750GB Serial ATA hard drives running at 7200 rpm; up to two 16x SuperDrives with double-layer support; ATI Radeon X1900 XT and NVIDIA Quadro FX 4500 graphics cards, both with 512MB of GDDR3 SDRAM; AirPort Extreme module, Bluetooth 2.0+EDR module; Apple USB Modem; Apple Wireless Keyboard and Apple wireless Mighty Mouse; Mac OS X Server Tiger; Apple Xsan; and Apple Fibre Channel PCI Express Card.