High school teens say they'll plunk down $500 for iPhone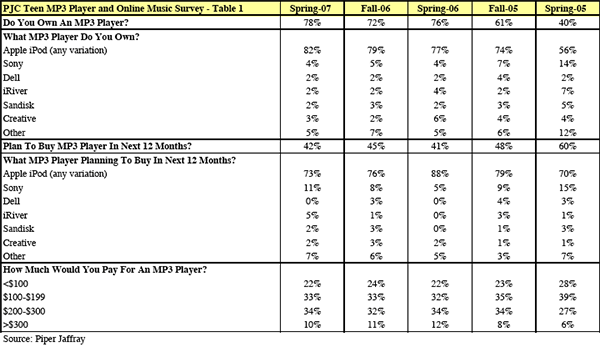 Though it hasn't yet hit the market, most high school students are already aware of Apple's iPhone device, with a significant number saying they're interested in forking over the $500 to call one their own, a recent study has shown.
As part of its 13th bi-annual teen survey, researchers at PiperJaffray surveyed approximately 500 high school students at 11 different institutions across the country, asking each about their interest and buying patterns in portable digital audio and online music.
Somewhat surprisingly, nearly 85 percent said they were already familiar with the multi-function Apple gadget, and of those students, 25 percent said they'd be willing to buy one at the previously announced $500 entry point.
Similarly, the PiperJaffray study found that Apple continues to dominate the portable media player market by a large margin, with 82 percent of students who own a PMP saying they own an iPod. Sony, at a distant second, saw its share amongst the teen demographic level off around 4 percent.
"We believe that the teen demographic is a critical component of long-term growth in both markets, and Apple is clearly leading the category, said Gene Munster, a Sr. Analyst at the firm. "Among high school students, it is clear that Apple is successfully carrying its brand from the media player market into the mobile phone space."
Still, Munster said he's modeling for the Cupertino-based electronics maker to sell just 660,000 iPhones during the 2007 fiscal year ending September and just another 4 million in the proceeding 12 months.
"We expect increasingly widespread adoption of the iPhone in more price-sensitive markets after the price gradually comes down," he wrote. "Even if 20 percent of those students (or 5 percent overall) actually enter the market at $500, our estimate may prove to be conservative."
Meanwhile, of the 42 percent of students who said they are interested in buying a portable media player in the next 12 months — including first time buyers and replacements — 73 percent expect to purchase an iPod. Though that figure is down slightly from the 76 percent reported by PiperJaffray as part of its Fall 2006 teen survey, Apple's lead remains significant over the second most popular option, which, again, is a Sony player at 11 percent.

At the same time, the percentage of students downloading music continues to rise, up to 83 percent from the 79 percent. However, most (64 percent) are reportedly using free music sharing networks instead of paying for music legally, down just 8 percent from 72 percent in Fall 06. Of those students who say they legally purchase music online, 89 percent said they use iTunes, down slightly from 91 percent.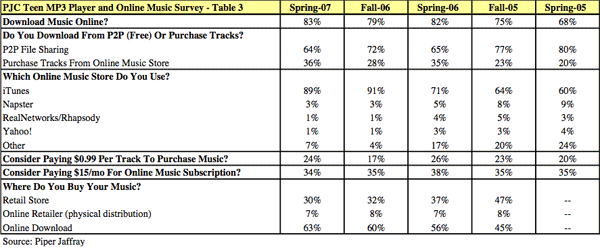 "Notably, the percentage of music downloaded legally from online music stores (36 percent) is at its highest since this portion of the bi-annual Teen Survey began in Spring 2005," added Munster. That is to say, legally purchased music has its biggest share of the online downloads category since that time. Of those online music stores, iTunes' share remains high [...] with Napster a distant second at 3 percent."
Of those students polled by PiperJaffray, the average age was 16.6 years old. 58 percent of students surveyed were female, 42 percent male.