Apple Inc. scores trademark coup with Beatles' label logos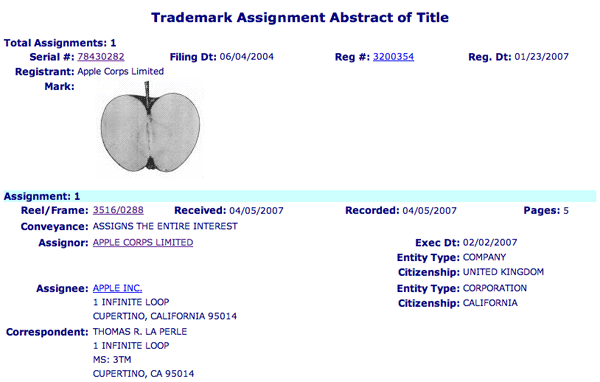 Although supposedly a meeting of equals, the touted deal between Apple, Inc. and Apple Corps has given the former a decisive victory with some of the famed music label's most cherished US trademarks changing hands.
Filings discovered today by AppleInsider and noted on April 5th at the US Patent and Trademark Office show that Apple Corps has given up more of the trademarks associated with The Beatles' own company than was expected as part of the landmark settlement in February.
While it had been assumed that the iPod maker would take control of the right to use the word "Apple" when connected with music — and the latest documents reveal this to still be the case — the company has also received the rights to use imagery virtually inseparable from Apple Corps' music business, including the centerpiece green apple and two variants with the fruit cut in half.
Terms of the transfer appear to be complete and unconditional. Apple, Inc. lawyer Thomas La Perle represented his company in all four of its dealings with the USPTO, which plainly stated that the bureau had assigned "the entire interest" of the British label's four previously disputed trademarks to its Californian partner in the deal.
The concession all but closes the books on the decades-long conflict between either firm and paves the way for Apple, Inc. to use the music label's iconography when needed — such as for the eventual online sale of The Beatles' music catalog through iTunes. Though the February pact ended the feud in principle, the legal hurdle of the trademarks would have likely barred the iTunes Store from making necessary references to Apple Corps for album and song details.
However the trade may affect the American firm, its similarly-named counterpart across the Atlantic will mark the occasion as one of the final steps in the gradual shift away from the once-secure role as The Beatles' favored guardian.
USPTO document showing change in ownership of protected Apple Corps. marks
In addition to relinquishing absolute control over a logo synonymous with the British rockers since its establishment in 1968, Apple Corps has recently seen Neil Aspinall take leave of the company he helped found, placing it in the care of relative strangers to the band for the first time in its nearly 40-year history. His leaving has been regarded by some as instrumental to The Beatles' appearance online as the end of the trademark dispute, thanks to his once staunch opposition to licenses with Apple, Inc.
Nevertheless, removing either of these reported barriers has yet to produce clear indications as to when, and in what capacity, music from The Beatles will surface on the iTunes Store to satisfy fans of works from either legendary company.