A closer look at Apple's new ProRes 422 video format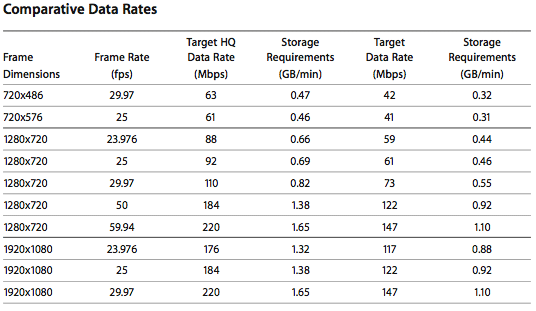 AppleInsider is supported by its audience and may earn commission as an Amazon Associate and affiliate partner on qualifying purchases. These affiliate partnerships do not influence our editorial content.
Going into extreme detail, Apple has said its new HD video standard was designed not just to beat opposing formats but to clear bottlenecks — some of which are stifling for video editors.
Although it touched on ProRes 422 as part of its Final Cut Studio 2 announcement, Apple later offered a more detailed explanation of why the format was created and its real advantages to film crews.
The software developer observes that one of its key trump cards, compressing full-quality HD to manageable file sizes, isn't new. In fact, the company notes that in some cases the variable bit rate encoding of ProRes — which tosses away data in simpler frames — isn't as purely efficient in crunching data as with other standards. The new RED One camera, for example, compresses a 4000-pixel wide or "4K" video image into a 200 megabit per second stream. By contrast, a high-quality 1920x1080 ProRes clip (roughly a quarter the size of the 4K video) is larger at 220Mbps.
But while this fits the storage needs of the camera, the processing overhead required to decode the video during editing can be crushing to all but the best systems — a problem for video editors who may need to preview one or more clips at once. It leaves little room for adding effects and seldom scales down smoothly.
This is where ProRes 422 excels, says Apple.
Despite compressing HD footage to a size smaller than raw standard definition video, the codec's demands on the CPU and disk speed are light enough that a MacBook Pro can play editing-grade video in full HD resolution. This lets pros test out their editing work in the field without a desktop computer or a large amount of desktop-class storage, either of which can cripple the budget for smaller or already expensive projects.
Those fortunate enough to work at a Mac Pro are poised to see even more of a benefit, Apple boasts. An improved half-resolution decoding method means that Final Cut Pro 6's unlimited real-time preview sees an exponential increase in the number of active previews: where only a single 1080i, 60Hz video would be visible on an eight-core Mac Pro in uncompressed form, the use of ProRes 422's high quality mode allows four. Dropping the quality to 720p at a film-level 24Hz sees the number of streams jump from three to fourteen on the same system and increases further with the normal 145Mbps ProRes bitrate.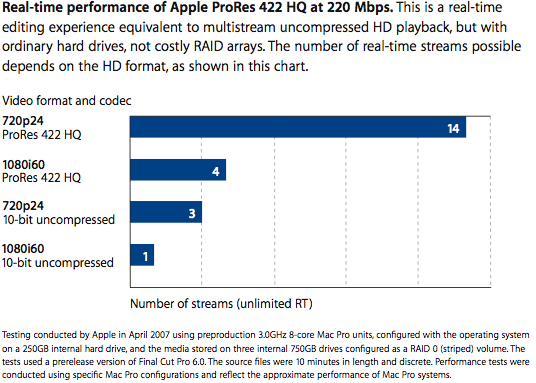 And while already impressive to users of Final Cut Pro 5, this performance boost is explicitly adapted to multi-core systems. ProRes is said to scale almost linearly with the number of cores available to process video, cutting the latency in drawing a finished frame in half every time the available processing power doubles.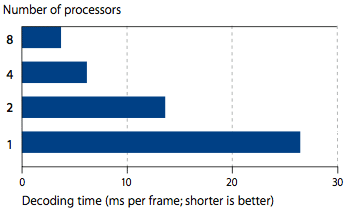 Recording is also made easier. A Mac Pro with an HD SDI video card, used for capturing live broadcasts, can automatically transform raw HD into a ProRes 422 clip without losing visual data, optionally sending it back to other hardware at the same quality. Since video is recorded at either normal 8-bit or richer 10-bit color depths regardless of the resolution, video producers can get subtler color gradients without moving to a rarer format or consuming more space. Capturing 10-bit isn't even an option for videographers using Panasonic's DVCPRO-50 or Sony's IMX-50 HD video formats, Apple points out.
Finally, the space and workload savings from the format can be applied whether or not the source footage matches: even when editing pure HDV or XDCAM HD, ProRes can be applied solely to effects layered on top of the source for a smaller overall bitrate, a faster render, and to preserve the quality of the underlying video.
The net effect of all these factors is to make HD editing more ubiquitous, according to Apple. With the sharper resolutions filtering down from feature-length movies to live footage, the company believes that the ability to trim videos with less than ideal equipment is increasingly essential — and, of course, that its own Mac hardware and Final Cut Studio software should be the first to make this a practical reality.