Apple execs confident iPhone will ship on time and in volume

Investment banking analysts for UBS just returned from a meeting in Cupertino with members of Apple's executive team, who were described as being "confident" about their company's strategy and "very upbeat" about the prospect for new products.
In attendance at the meeting were USB analyst Ben Reitzes and Apple executives Peter Oppenheimer (Chief Financial Officer), David Moody (Vice President of Mac Product Marketing), and Eddy Cue (Vice President of iTunes). Topics ranged from the component cost environment and new Mac products to the status of the iPhone and sustainability of the iPod+iTunes ecosystem.
"While Apple obviously did not reveal any new products, management still seems very confident in its market position in music and its ability to drive the 'multiplier effect' in various other businesses including Macs, iPhones and much more to come," Reitzes wrote in a report shortly after the sit-down. "We believe Apple is in great shape in terms of product momentum and believe the shares should benefit in what could be an extremely strong year that should be punctuated by another exceptional December quarter."
When speaking about the impending iPhone launch, management seemed "confident the product will ship on time with volumes to meet customer demand," said Reitzes. For his part, the analyst is expecting "initial demand to be very strong," with the handset holding the potential to add $0.35 to Apple's per-share earnings run-rate within two years.
"We believe Apple will provide customers with an innovative method of in-store activation and in-store displays for the iPhone, along with customer-friendly billing that could tie customers further into the Apple online store," the analyst wrote. "We believe Apple will introduce new models and partners for the iPhone in Europe and Asia within a year."
On a separate note, Reitzes said his checks with Apple management reinforce his believe that Apple TV "could be huge," with several growth opportunities likely to manifest as momentum builds into the holidays — especially as more movie content becomes available on iTunes, which would make the product more compelling as a DVD player replacement.
"We really enjoyed our meeting with Eddy Cue, being it was our first time meeting him," he remarked. "Eddy Cue clearly believes this product is the next generation DVD player for the home."
The analyst informed clients that Apple TV has a decent chance of emerging as a challenger in the 420 million unit DVD player market, especially as more content becomes available on iTunes. Along the same lines, he said, iTunes can start to become a bigger player in the 1.6 billion unit DVD market.
"As a result, we believe that Apple TV could be a $1 billion ecosystem for Apple within a few years," he wrote.
As part of its current June quarter, the UBS analyst expects Apple to ship iPhone, new Macs, and receive some help from the launch of Adobe's Creative Suite 3 and its own new Final Cut Pro Studio 2.0.
"We believe new products should help stimulate revenue acceleration through fiscal year 2008 for Apple and it seems management is very confident in its secret pipeline," he wrote. "For the rest of calendar 2007, we expect new video iPods including a widescreen video iPod with multi-touch technology (likely flash), higher capacity nanos and shuffles and new Macs into the holidays."

Other opportunities that are still not fully reflected in Reitzes model include: ultra-portable devices, additional movie partners and services, gaming opportunities and additional phone models.
"We remain excited about Apple's new multi-touch ecosystem the 'Mega-Platform' as we call it, and believe it may be becoming an 'open-ended' story once again with a logical chronology of new products for years to come," the analyst reiterated. "We expect the 'MP' to be prevalent in each of Apple's major hardware products within 3-5 years."
Considering the potential multiplier effect of bringing multi-touch technology into additional Apple devices, Reitzes estimates the platform could add about $1.00 ($0.35 from iPhones, $0.30 from Macs, $0.06 from Ultraportables and $0.33 from iPods) in annualized per-share earnings power at some point in fiscal 2009.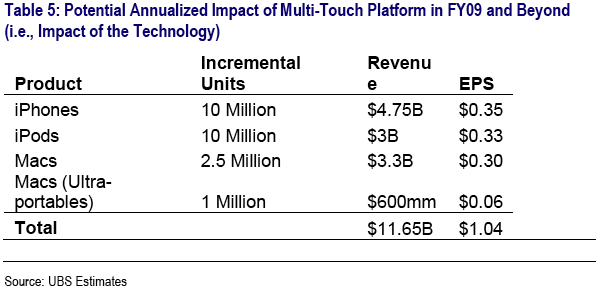 He noted that the aforementioned math doesn't include the added benefits of improving retail profitability and catalyzing the services and accessories businesses like the iPod did.
Margins and component costs
Following his sit-down with Apple's leadership, Reitzes said he still believes consensus estimates for Apple's long-term margins may be conservative based on leverage to higher revenues. He currently estimate that gross margins will average 32.1 percent in fiscal 2007 (up from 29 percent in fiscal 2006) and fall to 29.4 percent in fiscal 2008.
"While Apple is clearly saying margins should retreat to more historical levels (even well below 32 percent over time), we believe that its vertically integrated business model is in the process of garnering more long-term margin power than expected," he explained.
Overall, the UBS analyst walked away from his meeting in Cupertino feeling quite bullish on Apple, leading him to inform clients that his existing estimates may prove to be conservative.
For the Apple's third fiscal quarter ending June, he's forecasting earnings-per-share of $0.70, reflecting revenue growth of 20 percent year-over-year to $5.22 billion (down 1 percent sequentially) with gross margin of 32.0 percent and operating margin of 14.9 percent. The estimate factors in iPod unit growth of 19 percent year-over-year to 9.6 million and Mac growth of 25 percent year-over-year to 1.66 million.
For all of fiscal 2007, Reitzes is modeling earnings-per-share of $3.53, reflecting revenue growth of 23 percent to $23.7 billion, gross margin of 32.1 percent and operating margin of 16.9 percent. The estimate factors in iPod unit growth of 34 percent to 52.7 million, while our Mac unit estimate calls for 6.7 million units
"We are optimistic about the potential for revenue and earnings upside in the upcoming December quarter when several new products and software come to fruition for the holidays," said Reitzes. "In addition to prospects with the iPhone, we also believe that Apple still has potential to gain share in PCs."