Verizon to prospective iPhone buyers: 'Stay near a plug'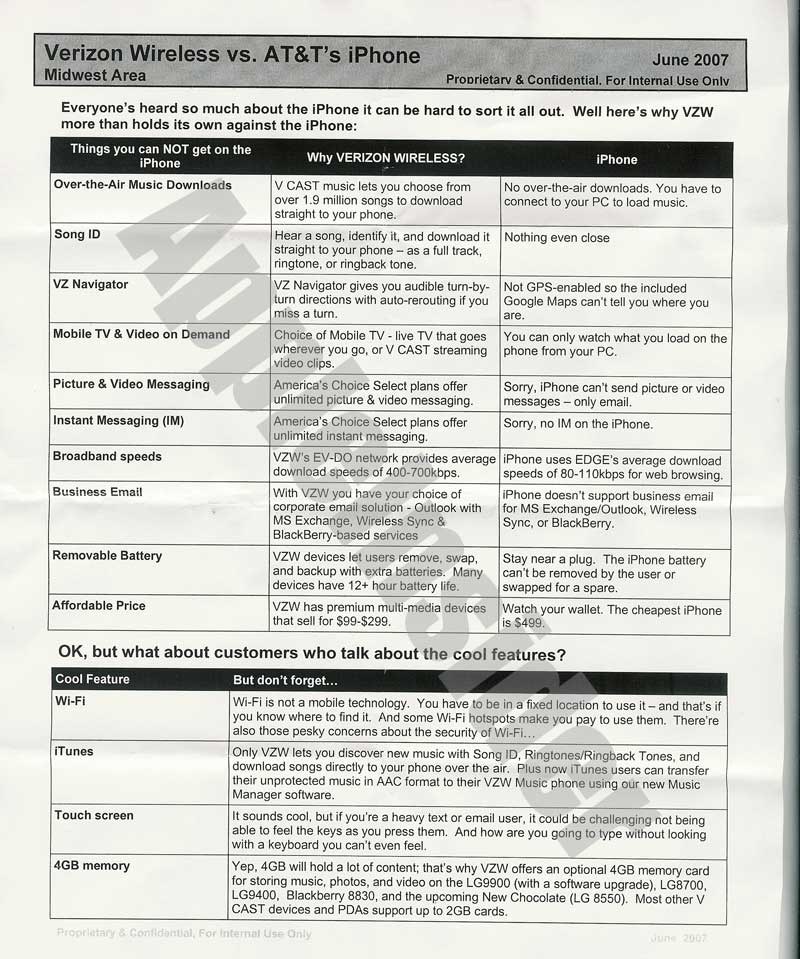 Like other AT&T rivals, Verizon Wireless has issued a list of talking points to help its employees encourage customers not to drop their service plans and switch to iPhone. "Stay near a plug," reads one of the points to be conveyed to potential switchers. "The iPhone battery can't be removed or swapped for a spare."
The multi-page document, labeled "Proprietary & Confidential. For Internal Use Only," offers Verizon's take on why it "more than holds its own" against Apple, AT&T and the iPhone.
"Sorry, iPhone can't send picture or video message — only e-mail," the carrier wrote. "No over-the-air downloads. You have to connect to a PC to load music." For its part, Verizon offers both features through certain of its service plans.
In the documents, the AT&T rival also suggests that employees tell prospective iPhone buyers to "watch their wallets," as the "cheapest iPhone is $499."
OK, but what about customers who talk about iPhone's "cool features" like Wi-Fi access and the touch screen?
"Wi-Fi is not a mobile technology," Verizon explains. "You have to be in a fixed location to use it — and that's if you know where to find it. And some Wi-Fi hotspots make you pay to use them. There're also those pesky concerns about security of Wi-Fi."
As for the Apple handset's touch screen, "it sounds cool," claims Verizon, "but if you're a heavy text or email user, it could be challenging not being able to feel the keys as you press them."
"And how are you going to type without looking with a keyboard you can't even feel," the carrier adds.
For those interested, both Verizon documents can been seen after the jump. Slightly more entertaining talking points issued by Sprint were covered on Monday.