Apple announces iPhone accessories with pricing details
With less than seven hours to go before Apple's hotly anticipated iPhone launches in the United States, the company has released pricing for nearly a dozen Apple-branded accessories due to go on sale alongside the handset.
"Look for the 'Works with iPhone' logo to find electronic accessories designed to connect specifically to iPhone and certified by the developer to meet Apple performance standards," the company said in regards to third-party accessories that will also turn up at Apple and AT&T retail stores on Friday.
Apple added that many iPod accessories that use the 30-pin connector — such as chargers and speakers — may also be compatible with iPhone, even though they haven't been certified as "Works with iPhone."
Apple iPhone accessories follows: — >A list of Apple iPhone accessories follows:
iPhone Bluetooth Headset ($129)
Make and answer iPhone calls wirelessly with this compact and lightweight Bluetooth headset. The iPhone Bluetooth Headset features a single button that lets you make and receive phone calls simply and intuitively. And it delivers up to 5.5 hours of talk time and up to 72 hours of standby time thanks to its built-in rechargeable lithium-ion battery. An iPhone Dual Dock and iPhone Bluetooth Travel Cable are also included.
The iPhone Dock offers easy access to a USB port for syncing or charging, and audio line out for connecting to powered speakers. Also includes an Apple USB Power Adapter and an Apple Dock Connector to USB Cable.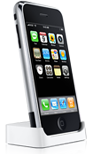 Give both your iPhone and your iPhone Bluetooth Headset a place to call home. The iPhone Dual Dock also includes an Apple USB Power Adapter for convenient charging.

iPhone Stereo Headset ($29)
The iPhone Stereo Headset is designed like the Apple iPod headphones and features a high-performance microphone fitted with a windscreen. You can quickly answer and end iPhone calls and control basic music playback simply by pressing a button on the mic.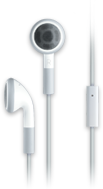 Apple USB Power Adapter ($29)
Use this compact, convenient USB-based adapter to charge your iPhone or iPod at home, on the road, or whenever it's not connected to a computer. An Apple Dock Connector to USB Cable is included.

Apple Dock Connector to USB Cable ($19)
This USB 2.0 cable connects your iPhone or iPod — directly or through a Dock — to your computer's USB port for efficient syncing and charging, or to the Apple USB Power Adapter for convenient charging from a wall outlet.

iPhone Universal Dock Adapter 3-Pack ($9)
These Dock Adapters enable your iPhone to connect to the iPod Universal Dock and other products that use the Universal Dock system. You can even conduct speakerphone calls with your iPhone in the Dock.

iPhone Bluetooth Travel Cable ($29)
Use this cable to charge your iPhone Bluetooth Headset while you sync or charge your iPhone.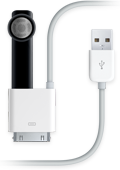 This adapter lets you use your iPhone with standard TTY devices. Just plug the cable from your TTY device into one end of the iPhone TTY Adapter, then plug the other end of the adapter into your iPhone.