iTunes 7.3 supports iPhone, adds Apple TV photo streaming
By AppleInsider Staff
Friday, June 29, 2007, 07:45 am PT (10:45 am ET)
Apple on Friday released iTunes 7.3, the latest version of its digital jukebox and media cataloging software. The new version adds support for iPhone and delivers photo streaming capabilities to Apple TV.

iTunes 7.3 lets you activate your iPhone service and will also sync the Apple mobile handset with your music, movies, TV shows, and more.

In addition, Apple said the new version allows Apple TV owners to wirelessly share digital photos from any computer in your home. The Apple digital media hub was previously limited to Photo syncing only.

iTunes 7.3 is available as a 33.8MB download for Macs and a 47.7MB download for Windows.
Today's Headlines
No news headlines yet today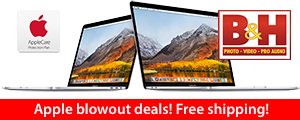 Lowest Prices Anywhere!

13" MacBook Pros
Price
You Save
3.1GHz/8GB/256GB Gray
$1,679.00
$120.00
3.1GHz/8GB/256GB Silver
$1,704.00*
$95.00
3.1GHz/8GB/512GB Gray
$1,849.00*
$150.00
3.1GHz/16/512GB Gray
$2,099.00
$100.00
15" MacBook Pro
Price
You Save
2.8GHz/16/256/555 Silver
$2,199.00*
$200.00
2.8GHz/16/256/560 Gray
$2,299.00
$200.00
2.9GHz/16/512/560 Gray
$2,599.00
$200.00
2.9GHz/16/1TB/560 Gray
$2,999.00
$200.00
3.1GHz/16/512/560 Gray
$2,799.00
$200.00
3.1GHz/16/2TB/560 Gray
$3,899.00
$300.00

*

price with Promo Code:

APINSIDER

prices.appleinsider.com for more configurations