Apple's U.S. Mac market share rises to 5.6 percent in Q2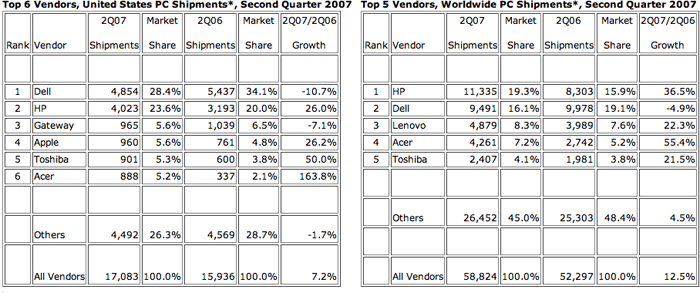 U.S. shipments of Apple's Mac computer line grew 26 percent during the second quarter of 2007, according to just released data from market research firm IDC.
The firm said Apple shipped 960,000 units within the U.S. during the three-month period, good enough for a 5.6 percent share of the overall U.S. PC market and fourth place on its list of top vendors.
Apple's U.S. share is up from 4.8 percent during the year-ago quarter when it shipped 761,000 units, according to IDC's historical data.
The Cupertino-based Mac maker was bested only by Dell, HP and Gateway, respectively. Dell maintained its rank as the top U.S. vendor, having shipped 4.85 million units for a 28.4 percent U.S. share. However, it continued to see its share of the market eroded by rivals, registering a near 11 percent yearly decline.
For its part, HP grabbed a 23.6 percent share through shipments of just over 4 million units, representing 26 percent growth year-over-year. In third place was Gateway, having edged Apple by a mere 5000 units as it saw growth decline more than 7 percent from the year-ago quarter.
Overall, IDC said the PC market accelerated to 7.2 percent growth during the quarter as aggressive competition and repositioning continued following a slow second half of 2006. The notebook market remained particularly strong, driven by consumer retail and channel activity. Although Desktop shipments continued to contract, shipment volume was higher than anticipated, the firm said.
From a worldwide perspective, PC shipments grew by 12.5 during the quarter, with Asia/Pacific (excluding Japan) returning as the fastest growing region with volume increasing more than 20 percent from the same quarter one year ago. IDC also cited competitive market in the United States as helping boost overall growth with other regions expanding in line with or slightly behind forecasts.
"This was another strong quarter that sets the stage for solid growth in the second half of 2007 and 2008," said Loren Loverde, director of IDC's Worldwide Quarterly PC Tracker. "The success of HP and Acer as well as the rapid changes occurring at Dell in recent quarters underline just how dynamic the PC market is these days. Despite the temptation to simplify, the market is not just about replacing systems at the lowest cost. System design, customer service, channel coverage, and market expansion are all playing key roles in winning business."
Apple did not rank amongst IDC's top worldwide PC vendors, and hence the company's worldwide shipment data was not available.