Apple's iLife '08 adds major new version of iPhoto and iMovie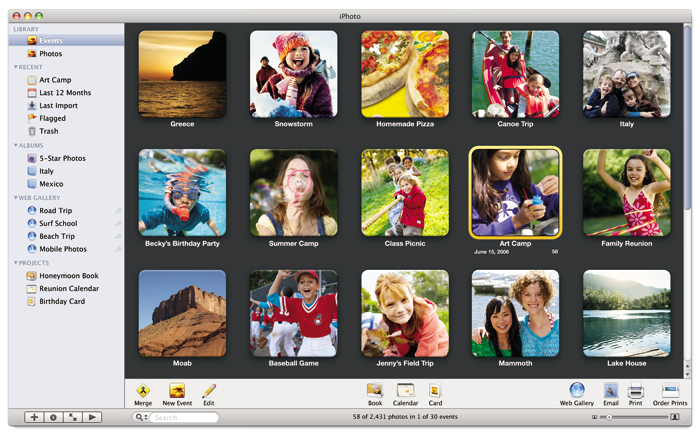 AppleInsider is supported by its audience and may earn commission as an Amazon Associate and affiliate partner on qualifying purchases. These affiliate partnerships do not influence our editorial content.
Alongside new iMacs, Apple today introduced iLife '08, which the company is calling "the most significant upgrade ever" to the award-winning suite of digital lifestyle applications — featuring a major new version of iPhoto and a completely reinvented version of iMovie.
With iLife '08, a new version of iPhoto automatically organizes photo libraries into Events that let users more easily manage their growing photo collections, and a new version of iMovie introduces an entirely new way for users to quickly make movies and share them online.
Both iPhoto and iMovie integrate seamlessly with the new .Mac Web Gallery, Apple's new service for .Mac members to instantly create and host online websites for their photos and videos. iLife '08 also features iWeb '08, with live web widgets such as Google Maps that let users create even more dynamic websites, and GarageBand '08, with its new Magic GarageBand feature that makes it fun and easy for both musicians and non-musicians to create great sounding songs.
"Apple has taken iLife '08 to a new level that is years ahead of anything available for the PC," said Apple chief executive Steve Jobs. "We think iLife '08 gives Mac users even more reasons to love their Macs, and PC users even more reasons to switch."
iPhoto '08 automatically groups all photos into Events, each containing a day's worth of photos represented by a single picture. Users can simply move their mouse over an Event to instantly "skim" through all its photos. Users can split a single day's event into multiple events, such as a birthday party in the morning and a wedding in the evening, or merge events on multiple days into a single event, such as a weekend ski vacation. Additionally, iPhoto '08 lets users hide photos they don't want to see every day but don't want to throw away, while a new unified search lets users instantly find all their photos across all Events by rating, date and keywords.
iPhoto '08 users can also produce frame-worthy prints on a home printer with new Apple-designed photo themes, and order keepsake books with customizable dust jackets and professional quality hardcovers with elegant foil printing, new spiral-bound softcover books that can be laid flat for easy viewing, or new larger wall calendars.
With iMovie '08, Apple's movie-making software has been completely reinvented to let users rediscover and enjoy their video library, make movies in minutes instead of hours, and share their movies with family, friends or the entire world in a snap. iMovie '08 can import video from the latest AVCHD, HDV and DV camcorders, as well as from digital cameras, and displays a user's entire video library whether it's stored on internal or external drives. Users can preview any of their video clips by simply moving their mouse over the clip to "skim" through it forward or backward at any speed, including faster than real time. Users can also select video as easily as selecting text, make a movie by simply dragging the selected video into a project, then easily add a soundtrack from iTunes, voiceovers, and elegant effects and cinematic titles. Additionally, iMovie '08 makes it as easy as a few clicks to enjoy your movies on an iPod, iPhone or Apple TV, or share with the entire world on YouTube.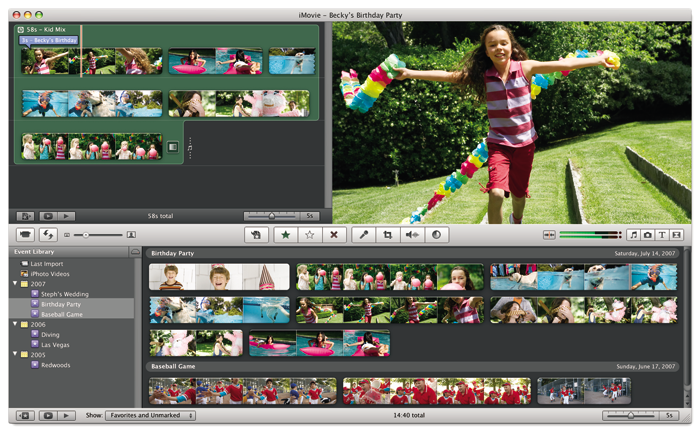 For .Mac members, Apple is also introduced a new .Mac Web Gallery that is fully integrated with iPhoto '08 and iMovie '08, letting users share their photos and movies on the web with just a few clicks. The gallery automatically builds a website containing photo galleries and movies that can be viewed on any modern computer or iPhone. Photos can be downloaded to print at sizes up to 16x20, and movies can be viewed at higher-than-DVD resolution.
Meanwhile, iWeb '08 offers new features to make websites more interactive by adding live web widgets such as Google Maps, targeted ads using Google AdSense and photos or movies from .Mac Web Galleries. Users can also add Internet video, news headlines, weather and more from any site that supports HTML snippets. A new "My Album" page template lets users easily organize photo albums and videos into one simple index web page. The new iWeb includes a range of beautiful new Apple-designed themes that users can change at any time to experiment with different web page designs, even after their site has been published. With a .Mac membership, users can also now host iWeb websites using their own personal domains.
Finally, GarageBand '08 introduces Magic GarageBand, an easy and fun way for musicians and non-musicians alike to create a song. Users can pick from nine musical genres and interact with a band of "players" on a virtual stage by selecting an instrument and musical part for each player to create thousands of possible song combinations. Users can play along with a built-in software instrument or record their voice to sing along to their own music. The new GarageBand also offers powerful new features for more advanced musicians, including multi-take recording to capture the best performance, arrangements to cut, copy and paste intros, verses and choruses, and support for 24-bit audio interfaces.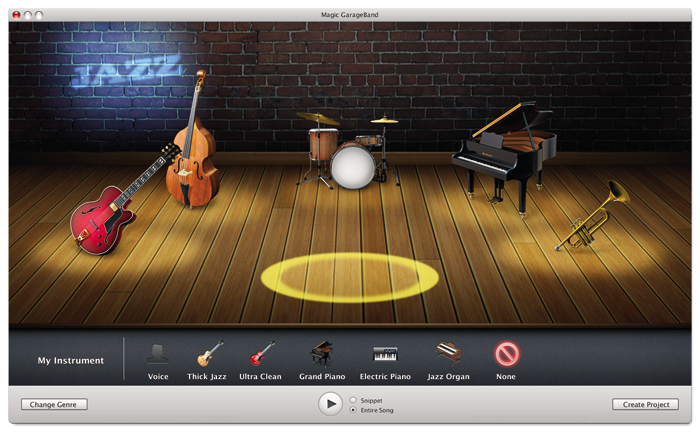 iLife '08 is available immediately for a suggested retail price of $79 (US) through the Apple Store, Apple's retail stores and Apple Authorized Resellers. The iLife '08 suite of applications will be included with all new Macs beginning today. .Mac is available as a subscription-based service for $99.95 (US) per year for individuals and $179.95 (US) for a Family Pack which includes one master account and four sub accounts. Anyone can sign up for a free, 60-day .Mac trial from www.mac.com.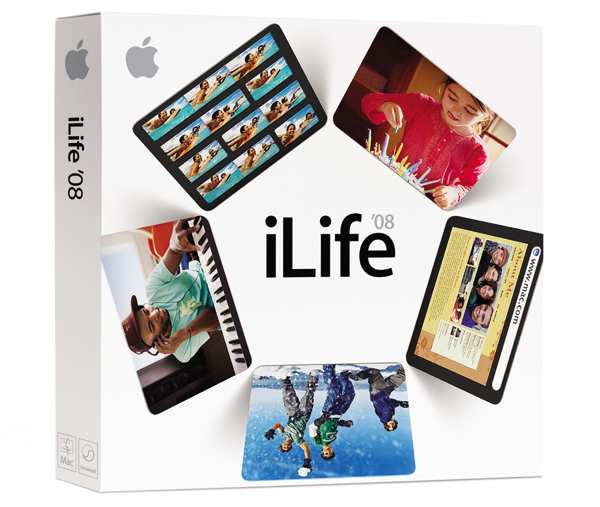 iLife '08 requires Mac OS X version 10.4.9 or later, a Macintosh computer with an Intel processor, a PowerPC G5 or PowerPC G4, QuickTime 7.2 or later, a DVD drive for installation and 3GB of available disk space. iPhoto print services are available in the US, Canada, Japan and select European countries. A .Mac account is recommended for iWeb. Full system requirements and more information on iLife '08 can be found at Apple's iLife website.