Design details and teardown photos of Apple's new iMacs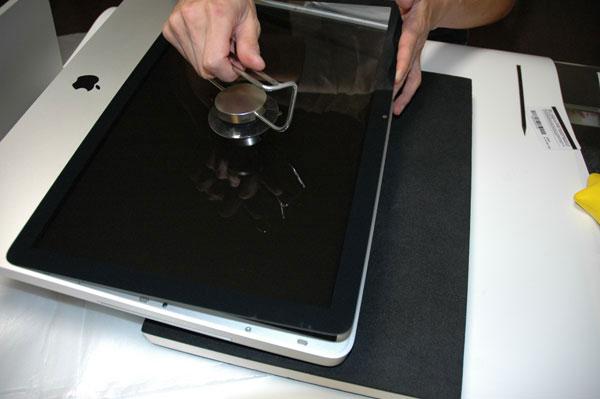 Apple's new iMac sports a chassis that's stamped from a single piece of aluminum, making it the world's first consumer electronics device to have been carved from a piece of metal that large.
In probing Apple representatives for the finer details, Gizmodo also notes that the aluminum undercarriage of the iMac's new keyboard is exactly 3mm thin — the same thickness as the system's chassis.
Sitting atop the unit's iSight cam is its built-in microphone, which consists of 8 laser cut holes — so small, reportedly, that a grain of sand would have problems passing through. Meanwhile, the iSight sensor itself, as well as the IR receiver, are positioned behind the black glass border near the top of the display bezel.
Gone from the new iMac is the magnetic remote control fastener, and the only visible screw on the unit can be found at the base of the display module, between the speakers where the RAM door is located. Since the speakers are pointed downward, the sound reportedly bounces off the desk exceptionally well at a sufficient volume.
According to Giz, the black backside of the new iMacs produce a slimming effect, making the units appear to have less "junk in the trunk."
There are also some differences between the two models. For instance, the 20-inch iMac is said to feature a display with a slightly lower viewing angle and lower brightness than the 24-inch model (160-degrees vs. 178-degrees; 290 nits vs 370 nits.) However, the 20-inch iMac reportedly offers more contrast at 800:1, as opposed to the 24-inch model's 750:1. Additionally, the 24-inch iMac seems to be wall-mount ready, while the 20-inch does not.
Giz also observes that there are no LEDs on the front of either unit to indicate they are asleep. The displays are also said to be extremely glossy. "[It's] far glossier than a MacBook Pro's glossy LCD, and will be less visible in direct sunlight, if you happen to put it near a window," the site notes. "The preset color calibration for 'iMac' makes the screen look washed out. I preferred one of the other RGB profiles."
While some turned to Apple for answers on the new iMac design, others took matters into their own hands — literally. The always dependable tear-down folk at Kodawarisan have already ripped the guts from one of the new units, revealing dual cooling fans and and a Philips-made LCD panel. Also apparent from the website's pictorial is that the iMac's glass panel must be carefully removed with suction cups.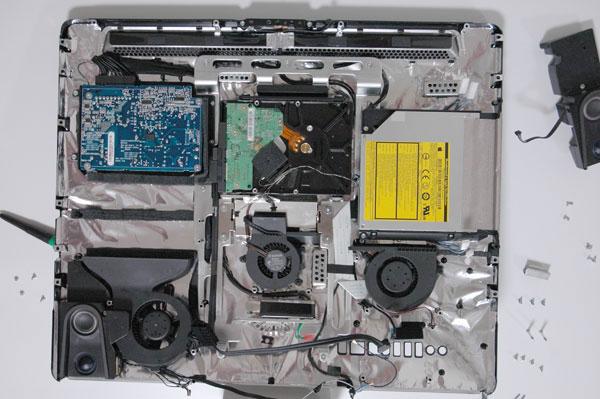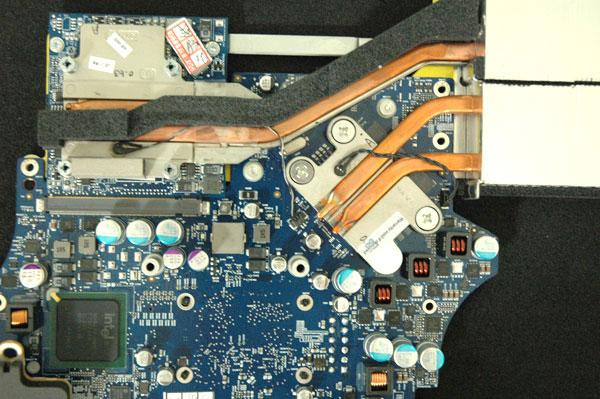 Additional photos are available at Kodawarisan.