Apple's new iMac Core 2 Extreme, Mac mini benchmarked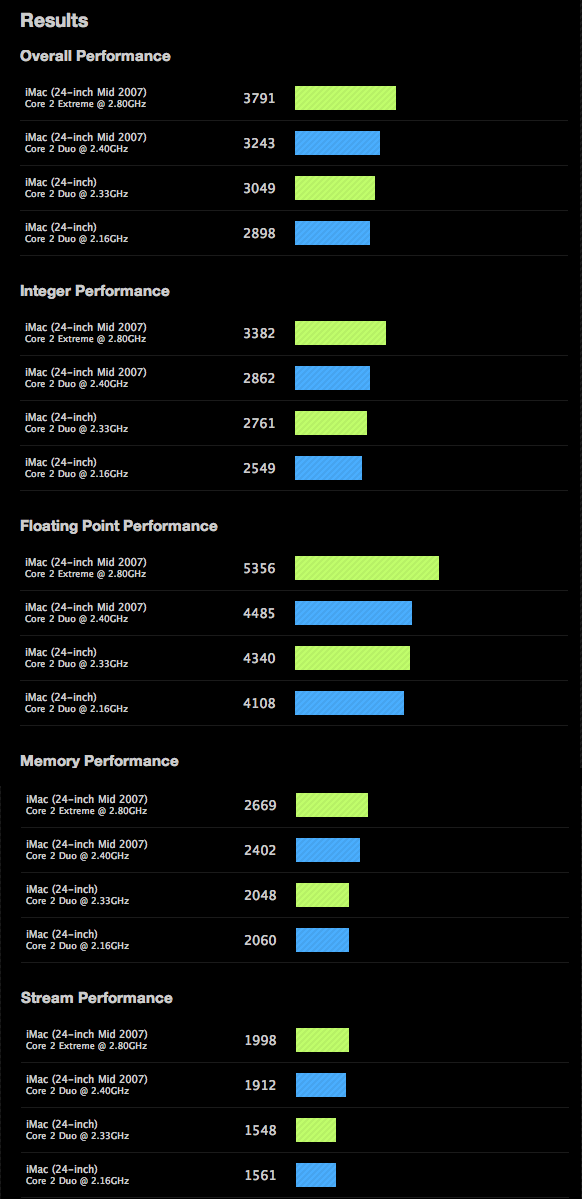 Hot on the heels of last week's benchmarking of the 2.4 GHz iMac, the folks over at Primate Labs have updated their iMac performance comparison charts to include scores from Apple's top-of-the line 2.8GHz iMac Core 2 Extreme, as well as the new Mac mini.
iMac 2.8GHz Core 2 Extreme
The Waterloo, Ontario-based software developer ran all tests through Geekbench, its flagship cross-platform benchmarking software for Linux, Mac and Windows. Again, each of the iMac systems was running Mac OS X 10.4.10 with 2GB of 667 MHz DDR2 SDRAM.
As would be expected, the high-end iMac posted noticeable gains over previous-generation 2.16GHz and 2.33GHz models, as well as the new 2.4GHz iMac. Performance increases were most significant under Geekbench's Floating Point, Integer and Memory tests.
The 2.8GHz iMac, which sports an overclocked 2.6GHz Intel Core 2 Extreme X7800, registered a floating point score of 5356 compared to the 2.4GHz model's score of 4485. In terms of overall performance, the Extreme posted a score of 3791 compared to a score of 3243 for the 2.4GHz model.
Mac mini Core 2 Duo 1.83GHz and 2.0GHz
Primate also recently benchmarked Apple's modest Mac mini refresh, which capped off a complete product line shift towards 64-bit computing on the part of the Cupertino-based Mac maker — an industry first.
The new Mac minis were pit against almost every one of their predecessors in a set of Geekbench tests. The resulting scores were modest at best, with the 2.0Ghz Mac mini Core 2 Duo scoring 2668 overall, compared to the previous-generation 1.83GHz Core Duo model's score of 2334.