Apple designing 'collapsible connection receptacle' for ultra-portable systems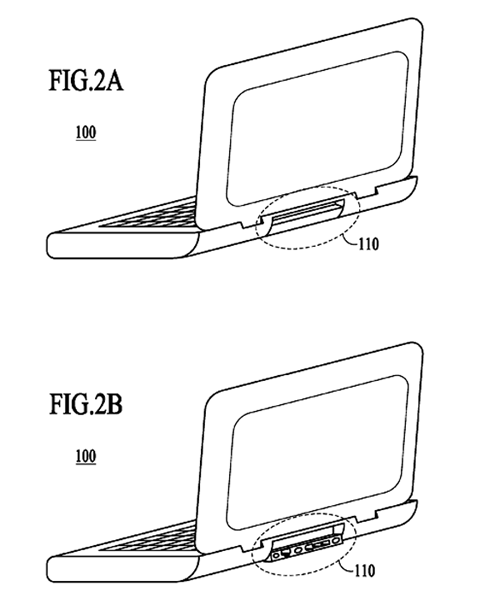 Apple Inc., which is expected to introduce a widescreen ultra-portable in the coming months, may compact the notebook's I/O ports into a collapsible connection receptacle on the rear of the unit in order to conserve space, a new design patent has revealed.
"Mobile devices such as notebook computers are becoming increasingly thinner," Apple explained in the 11-page filing published for the first time Thursday. "As a result, connections systems need to be reduced in size to accommodate smaller form factors."
However, the Cupertino-based systems designer notes that one limitation when reducing the size of a connection system is that the reduction is limited by the size of the largest port (which usually include Universal Serial Bus (USB) ports, FireWire ports, RJ-11 ports, and RJ-45 ports).
For example, RJ-45 ports are relatively large and thus may be a challenge to accommodate, Apple said. To remedy this situation, the company has proposed a "connection system" that includes a connection receptacle comprising a first component coupled to a chassis and a second component coupled to the first component.
"The connection system includes a connection receptacle that is implemented as two separate components. One of the components is fixed in that it is coupled to the chassis, and the other component is rotatable or coupled to a moving mechanism," the company explained. "The combination of the fixed and rotating components are adapted to receive a plug when the connection receptacle is in an open position, and the fixed and rotating components are collapsed into a compact configuration when the connection receptacle is in a closed position."
Under Apple's design proposal, the ports maintain their original form whether the connection system is in an open or in a closed position. When the connection system swings to the closed or stowed position, the ports also swing into a stowed position such that they are flush with the mobile device chassis.
Although the filing primarily describes a concept where multiple ports are integrated into a single connection system, it may also apply to other configurations. For example, Apple said each port (e.g., the RJ-45 port 122) can be separate from other ports such that a single port can be moved into open and closed positions independent from other ports.
In general, and by minimizing the space requirements of the stowed position, larger ports such as standard RJ-45 ports no longer limit the potential reduction in connection systems, the company said.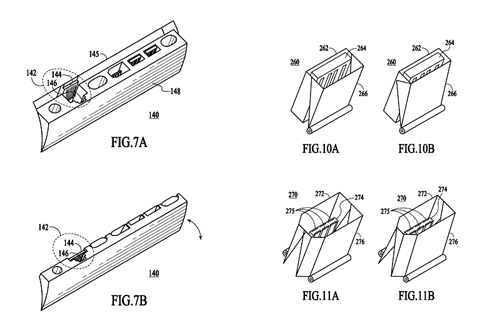 "Accordingly, this collapsing function enables a substantial reduction in the size of the connection system and thereby enables a substantial reduction in the form factor of a device implementing the connection system," Apple added. "For example, a notebook computer may have a highly tapered chassis shape."
The April 17, 2007 patent filing — credited to well-known Apple interface designers Gavin Reid, Chris Ligtenberg, and Bartley Andre — could hint at design concepts that may make their way into Apple's upcoming ultra-portable notebook design.
Sometime later this year or early next, Apple is expected to introduce its first ultra-portable notebook in some time. Sources have said the unit will lack a traditional optical drive, include on-board NAND flash, and sport a 13-inch widescreen LED-backlit display.