Apple's iPhone emerges as leading U.S. smart phone in July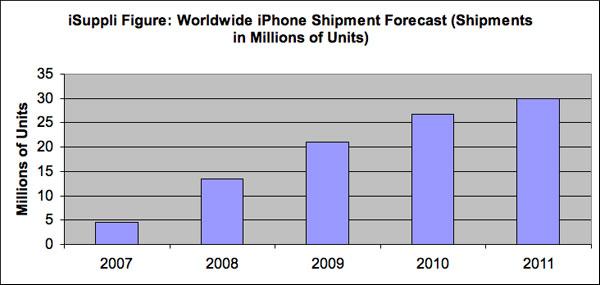 AppleInsider is supported by its audience and may earn commission as an Amazon Associate and affiliate partner on qualifying purchases. These affiliate partnerships do not influence our editorial content.
Apple Inc.'s iPhone outsold all smart phones in the United States during July, and equaled the sales of the most popular feature phone, according to market research firm iSuppli
The two models of the Apple handset accounted for 1.8 percent of all mobile-handset unit sales during the month, the firm said, besting sales of the Blackberry series, the entire Palm portfolio, and any individual Motorola, Nokia, Samsung or other smart phone model from a branded service provider. In addition, the iPhone's U.S. sales were equal to those of the most popular feature phone, LG's Chocolate.
"This is a remarkable accomplishment for Apple, considering that July marked the first full month of sales for the iPhone," iSuppli wrote in a report released Tuesday. "While iSuppli has not collected historical information on this topic, it's likely that the speed of the iPhone's rise to competitive dominance in its segment is unprecedented in the history of the mobile-handset market."
The firm went on to say that, while the speed of the iPhone's ascent to the top of the smart-phone and feature-phone charts is remarkable, it's equally amazing that Apple achieved this in the face of numerous, well-entrenched competitors.
iSuppli's consumer panel survey revealed that approximately 57 percent of iPhones bought in July were purchased by U.S. consumers 35 years of age or younger. The majority of those iPhone buyers were men, with 52 percent of purchasers being male and 48 percent female.
Additionally, the firm's survey revealed that nearly two-thirds, or 62 percent, of iPhone buyers in July had a four-college degree or more education, and one quarter of consumers who bought iPhones switched to AT&T service in order to do so.
"Some of the iPhone's success in July can be attributed to pent-up demand following months of hype. Real proof of success will come in the coming months as demand patterns stabilize," iSuppli wrote. "Based on consumer demand, Apple's brand image, industry anticipation and iSuppli's estimates of volume shipments by manufacturers and the market segment, iSuppli is maintaining its projection that 4.5 million iPhones will ship in 2007, rising to more than 30 million units in 2011."
Shares of Apple rose $4.48 or more than 3 percent to $142.9 on the Nasdaq stock market early Tuesday, following word of the report.