Briefly: Synaptics back in iPod, iPod touch guide confirms details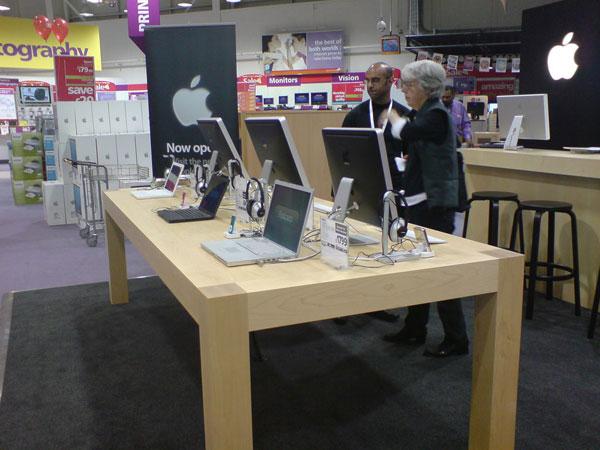 After a significant absence, Synaptics' touchpad technology has returned to Apple music players, says a new research note from Bear Stearns. Also, British shoppers are the latest to see Apple's mini-store concept inside larger retailers.
Synaptics built into new iPod models
The new iPod classic and third-generation iPod nano both depend on touch-sensing technology from Synaptics, according to a new investment research note from Bear Stearns senior analyst Andrew Neff.
Referring to details gleaned from a tear-down by iPod repair specialty house iFixit, Neff confirms that the company's technology is once again the basis of Apple's click wheel controls. Previously, Apple had switched to a Cypress system for the first and second generation iPod nanos as well as the iPod with video.
While a significant help to Synaptics, the return to the iPod was not described as an essential one for the company, which had learned to court Apple's competitors as well as entirely different markets.
"While being designed into [Apple]'s next generation iPod is a positive, [Synaptics] has made significant progress in diversifying its business beyond MP3 players, with strong demand from notebooks and mobile phone opportunities," Neff said.
Apple posts iPod touch guide
As part of its preparations for supporting the iPod touch, Apple today posted a PDF version of the Features Guide for the music player.
The 85-page document largely covers the interface and general use for the iPhone-based player but also points to at least two previously unverified features. One of these is a small stand included in the box to prop up the iPod for prolonged video watching or photo slideshows.
A section for contacts also provides instructions for how to add and edit new entries, a feature the company had initially suggested would be absent from the iPod touch despite the software's similarity to the iPhone. The most recent descriptions from Apple's website now mention "adding new contacts" as a feature.
Microsoft talks easier Office 2008 deployment
Microsoft's Dustan Gourlie has been the first to follow up on the Mac Business Unit's promise to provide updates on Office for Mac 2008, making a post to the company's blog on Thursday that outlined steps to improve deploying the new version across a network.
For the first time, Office will use the standardized Apple Installer package format to install components, Gourlie said. This would let network administrators both manage installations through Apple Remote Desktop and automate a wide-scale deployment with AppleScript.
Network managers and individuals can also opt out of installing Microsoft's bundled fonts, which prevents Office from overwriting an existing font set and possibly affecting company's publishing workflow.
PC World UK sees enhanced Apple mini-stores
Taking its retail efforts one step further, Apple is expanding its store-within-a-store concept to include the UK computer retailer PC World, according to a report provided to AppleInsider.
Much like the environments set up inside outlets at Best Buy and its Canadian sister company Future Shop, the British installations are marked off from the rest of the store with black carpet and showcase the iMac, iPods, and the company's MacBook portables. A dedicated Apple staffer also answers customers' questions.
But in a move that more closely resembles the Mac maker's own shops, the store section now has a more Apple-like display table and a counter that resembles the Genius Bar at a full-fledged store — complete with a large screen and black seats for visitors.