Microsoft says Office 2008 for Mac bundles to start at $150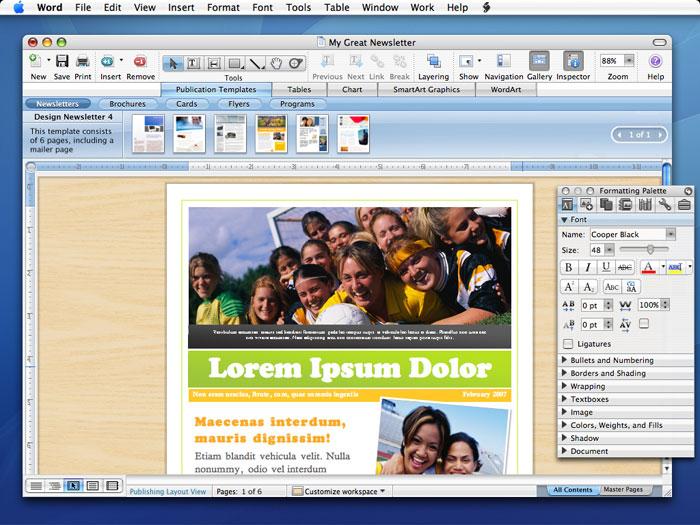 Exhibiting at the Apple Expo in Paris on Tuesday, Microsoft Corp. said it will release three versions of its Office 2008 for Mac productivity suite in January, including a pricier special edition aimed at creative professionals who are continually daunted by the task of organizing their growing digital media libraries.
Office 2008 for Mac Home and Student Edition will be the least expensive of the company's offerings, specially priced at $150 and bundling new versions of Word, Excel, PowerPoint and Entourage. The package, aimed at users with basic productivity needs, will include a license that allow users to install those applications on up to three computers.
The standard edition of the software suite — to be called simply Microsoft Office 2008 for Mac — will retail for $400 and include all of the features of the Home and Student Edition, adding connectivity to Microsoft Exchange Server and support for automated workflows.
Meanwhile, a third and final version, Office 2008 for Mac Special Media Edition, will retail for $500 and include all the features of the standard edition together with the Microsoft Expression Media — a powerful and customizable image management software application for importing, annotating, organizing, archiving, searching and distributing users' ever-growing collections of digital files. This special edition is geared specifically toward professional users who need Microsoft Exchange Server support and Automator tools but are also looking for one product to meet all their productivity and digital asset management needs.
In addition, Microsoft said all versions of Office 2008 for Mac support the new Open XML file format and are Universal applications that will perform natively on Power PC- and Intel-based Macs. Each version will be available in Dutch, English, French, German, Italian, Japanese, Spanish, Swedish, and, for the first time, in the Nordic languages (Danish, Finnish and Norwegian).
"We built Office 2008 with the unifying goal of making it easier for Mac users to access the tools they need to get the job done — whether it's creating a brochure for their business, managing their family schedule and finances, or finalizing a presentation to share between Macs and PCs," said Craig Eisler, general manager of the Mac BU at Microsoft. "And, of course, Office 2008 for Mac will provide the document fidelity with the 2007 Microsoft Office system that our users need to stay connected with their friends and co-workers on PCs."
Microsoft Word 2008 Publishing Layout View
As showcased at Macworld Expo 2007, Office 2008 for Mac is designed to help users get more from their Macs by making key functions accessible through a more intuitive design and by introducing smart features such as Ledger Sheets in Excel 2008, My Day with Entourage 2008, Publishing Layout View in Word 2008 and SmartArt graphics in PowerPoint 2008 that are simple to use and yield powerful results. Entourage 2008 also features improved Windows Exchange Server support, with enhanced reliability and functionality.
"We've worked closely with Microsoft since it launched the first version of Office for Mac more than 20 years ago," said Ron Okamoto, vice president of Worldwide Developer Relations at Apple. "Office delivers tremendous compatibility across platforms for Mac and PC customers, and we look forward to another great user experience with Office 2008 for Mac."
Microsoft said Office 2008 for Mac will be available in the United States beginning Jan. 15, 2008, with global general availability in the first quarter of 2008. In addition to the standard retail pricing mentioned above, the company will also offer specially priced upgrade versions for legally licensed users of previous versions. Upgrades to the standard addition will be offered for $240, while upgrades to the special edition will fetch $300. No upgrade options are available for the aggressively priced Home and Student Edition.
Microsoft also announced that it has begun a new the technology guarantee program that allows customers in select regions who purchase qualifying Office 2004 for Mac products to upgrade to a version of Microsoft Office 2008 for Mac for only the cost of shipping, handling and applicable taxes. More information about the program specifics is available at Microsoft's Office website.