Report: Zune sequel to break cover as early as Tuesday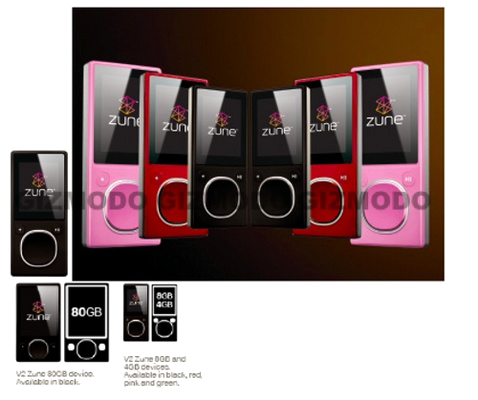 AppleInsider is supported by its audience and may earn commission as an Amazon Associate and affiliate partner on qualifying purchases. These affiliate partnerships do not influence our editorial content.
Sometimes the target of jokes for its initial in-house attempt at a digital media player, Microsoft is poised to announce its first update to the line as soon as this week, if a new report holds true.
Citing insiders "close" to the event, BetaNews stirred anticipation on Monday by claiming that Microsoft would overhaul and expand its Zune player lineup as soon as Tuesday in an event to be attended by none other than company co-founder Bill Gates.
While sparing on some details, the tipster alleged that the Redmond, Wash.-based firm will release its first media player to employ flash memory for storage rather than a spinning hard disk. The device would be just 3 inches tall and 1.25 inches wide and would therefore be smaller than the first- or second-generation iPod nano in almost every respect — but it would still have video playback, WiFi, and the other features from its larger sibling.
The hard drive model would be upgraded with a slimmer chassis but would otherwise be much the same as the original, the purported source said. A beta "community site" was also said to be launching along with a new set of accessories from Microsoft itself.
These specifications appear to line up with information first obtained by Gizmodo in August and later corroborated by secondary reports. A rendering of the new players showed two devices fundamentally similar to the present-day 30GB Zune but with a square-like control pad and a narrower, thinner profile. At the time, the image pointed to 4GB and 8GB flash-based Zunes shipping in four colors and a lone 80GB hard drive model in black.
However accurate the initial drawings, the current news would have Microsoft place much more faith in its portable player strategy. In its description of production plans, the report noted that Microsoft would manufacture 2.4 million flash and hard drive Zunes over the course of the holiday shopping season — double what the company managed in the eight months between the Zune's November 2006 launch and the end of June. Most of these new sales would reportedly be flash models, which have typically sold for less in exchange for their reduced capacity.
Rumored Zune 2.0 Product Line | Image from Gizmodo
The Windows developer and now Zune maker has been modestly successful with its first effort, beating its initial target of one million players sold by the end of June but struggling to gain share from either Apple's iPods or other, smaller competitors such as SanDisk. Although keen to tout its ten percent of the hard drive-based media player market, the company has yet to pass the 3 percent threshold in the market as a whole. The flash Zune would be key to this strategy, according to the new claims.
If proven accurate, however, the information would also require this strategy to gather its momentum very quickly: the new Zunes would be ready by November, giving Microsoft just a few weeks to sell the brunt of its supply by Christmas.