Study: HDTVs, Windows PCs crowd out Apple on holiday wish lists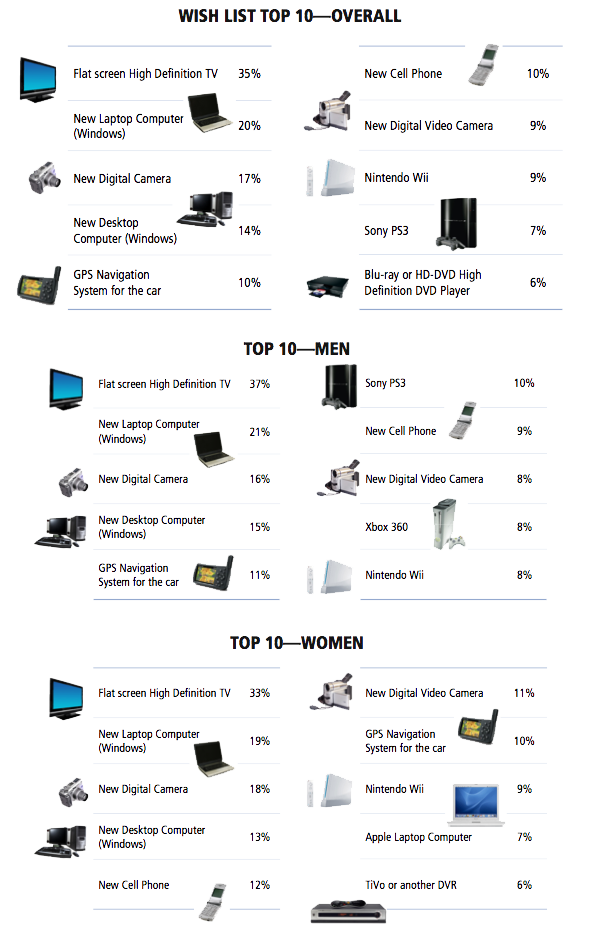 HD-capable flat screen TVs and Windows notebooks — not Apple iPods or iPhones — rank atop this year's holiday wish list of American consumers who listed at least one digital lifestyle product amongst their most desired gifts.
In fact, the recent study of 1,200 American consumers by Solutions Research Group found that no individual Apple product ranked higher than No. 11 on the wish lists. When combined, however, Apple-branded technology products made it to the top 5 overall, with one-in-six considering an Apple-branded purchase — suggesting a strong potential holiday season for the Cupertino-based company.
Apple's iPhone was ranked No. 15, while the hottest Apple-branded product was a Mac notebook, which ranked No. 11 overall and No. 9 among women.
In general, HDTVs were the most desired gift among all population subgroups, with a resounding 35 percent of respondents saying they craved one of the pricey eye-catching gadgets. Interestingly, Solutions Research report that only 2 percent said they also intend to get a HD box from their cable or satellite company, and 6 percent a Blu-ray or HD-DVD high-definition DVD player.
Men and women had six items in common in the top 10 — the rest were unique by gender. Sony PS3 and Xbox 360 were on the top 10 list of men but did not make it to the top 10 list of women. On the other hand, TiVo/ DVR and Apple laptops were in the top 10 for women but did not show up on men's wish lists for the holidays.
Meanwhile, notebook computers were preferred over desktop computers 2-to-1 among those respondents age 18 to 34. Nintendo Wii, Sony PS3 and Xbox 360 were all on lists from that same age group, with the Wii being the highest ranked console, ranked No. 8 overall, edging out Sony PS3 which came in at No. 9. Xbox was ranked No. 12.
Solutions Research said its study results were based on a survey of 1,200 online Americans aged 18 and older in September 2007 using "a professionally-managed panel representative of the US online population." The firm also claims to fund its own syndicated research in an effort to maintain an unbiased perspective.