Briefly: Apple still working on Time Machine's AirPort Disk support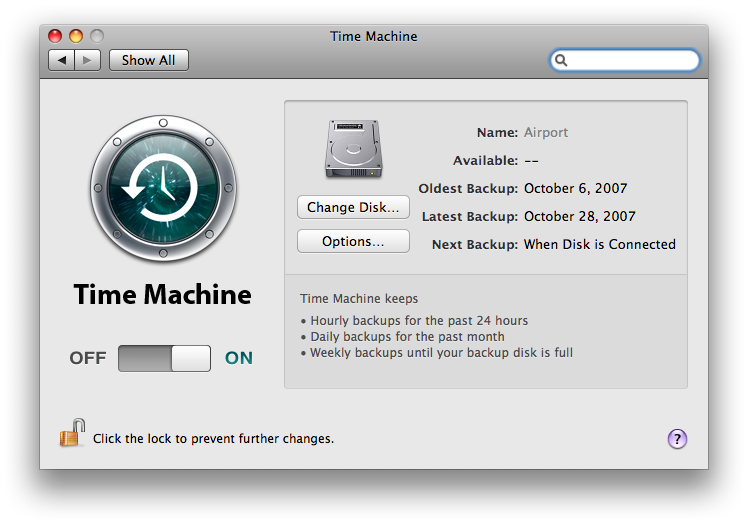 AppleInsider is supported by its audience and may earn commission as an Amazon Associate and affiliate partner on qualifying purchases. These affiliate partnerships do not influence our editorial content.
All hope for wireless backup support under Apple's new operating system may not be lost, recent evidence suggests.
In the months leading up to last week's launch of Mac OS X Leopard, Apple had widely touted a feature of its new Time Machine backup solution that would allow users to back up their data not only to local disks but also AirPort Disks connected wirelessly via the company's new AirPort Extreme Base Station routers.
Apple, however, pulled the feature from Leopard and discarded all references to wireless backup from its Leopard-related web pages just days before the software hit retail shelves. No official explanation for the removal was ever provided, but informed speculation was that the feature wasn't quite ready for prime time.
According to a person familiar with Leopard's ongoing development, Apple is internally classifying the inability to select an AirPort Disk under Time Machine as a known issue. The matter is documented under a unique "Bug ID" number and titled: "Cannot set Time Machine Backup to AirPort Disk."
In the bug report, Apple notes that "Time Machine cannot find AirPort Disk as a Backup drive" even though the feature was "previously stated as available in online documentation." The issue is "currently being investigated by engineering."
The findings suggest that the AirPort Disk support under Time Machine could resurface in an upcoming maintenance update to Leopard, the first of which is well underway. However, it should also be noted that Apple has pulled features from its major operating system in the past and never looked back.
For instance, a feature dubbed "Home on iPod" was once destined for Mac OS X 10.3 Panther and widely publicized on Apple's website before it was abruptly yanked from pre-release builds of Panther back in October of 2003.
Home on iPod would have allowed Mac OS X users to sync their home directories to an iPod and then use the data stored on the player to securely log into any supported Mac after docking the iPod to that Mac.
The feature has yet to resurface.