Touch-screen shortage, Office 2008, Mac Pro RAID card; iPhone

A shortage of touch-screens for Apple's new iPod touch player is having an adverse affect on the NAND flash market. Meanwhile, Microsoft is offering new upgrade incentives to customers who purchase Office 2004 ahead of January's Office 2008 launch. And Apple has begun shipping its $1000 RAID card for the Mac Pro.
iPod touchscreen shortage
"Expectations of rebounding NAND flash prices due to rising shipments of iPod touch may be dashed since touch screen panels are running short at present," reports DigiTimes.
Following the launch of the iPod touch in September, Apple originally planned to rapidly grow global shipments up to the year-end holidays, the overseas rumor publication said, citing market sources. However, due to the shortage of touch screen panels, volume shipments have been pushed back to this month, those sources added.
The shortages have reportedly affected shipments from NAND flash makers to Apple. "If the NAND flash makers were able to make shipments to Apple as planned, they would not have had to face pressure to sell their products to other vendors," DigiTimes said. "In the long-term it is unlikely prices in the NAND flash market will stabilize."
Microsoft's "Super Suite" office deal
Promotion details and a list of qualifying Office 2004 products are available from Microsoft's new Super Suite Deal website.
Apple ships Mac Pro RAID card upgrade
Meanwhile, MacNN reports that Apple has begun offering its RAID controller cards as a separate upgrade for its Mac Pro high-end desktop systems.
Mac OS X already allows users to stripe two, three, or four hard drives in a RAID 0 array for increased performance with a large storage capacity. The operating system also supports RAID 1 mirroring for protecting critical data against drive failure, while the new Mac Pro RAID card supports hardware RAID levels 0, 1, 5, and 0+1.
The new card features 256MB of RAID cache, a 72-hour cache protecting battery, and sequential read performance of up to 304MB/sec in RAID 0 or up to 199MB/sec in RAID 5 without the need for any external drive enclosures. Apple's new Mac Pro RAID card is available via the online store as a configuration option for new Mac Pro purchases, adding $1,000 to the price of potential Mac Pro purchases.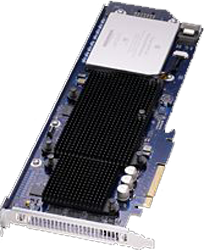 Apple states: "The Mac Pro RAID Card delivers enhanced storage performance and data protection through a powerful hardware RAID engine, 256MB of cache, and an integrated 72-hour battery for protecting cache data. The card occupies the top PCI Express slot (slot 4) of your Mac Pro and requires Mac OS X 10.5 or later."
Users looking to enable a Mac Pro for hardware RAID can install the Mac Pro RAID Card and two or more hard drives in bays 1 through 4. Each RAID level requires a minimum number of hard drives, however, with Enhanced JBOD (Just a Bunch of Disks) needing just one drive and RAID 0+1 requiring four separate drives.
The Mac Pro RAID card ships with an installation tool as well as detailed setup instructions.
TIME pays homage to iPhone
"The thing is hard to type on. It's too slow. It's too big. It doesn't have instant messaging. It's too expensive. (Or, no, wait, it's too cheap!) It doesn't support my work e-mail. It's locked to AT&T. Steve Jobs secretly hates puppies," writes Lev Grossman. "And — all together now — we're sick of hearing about it! Yes, there's been a lot of hype written about the iPhone, and a lot of guff too. So much so that it seems weird to add more, after Danny Fanboy and Bobby McBlogger have had their day. But when that day is over, Apple's iPhone is still the best thing invented this year. "
Google to announce wireless play on Monday
Also, the Wall Street Journal is reporting that we won't have to wait much longer to hear from Google about its big plans in wireless.
"The company looks set to make a splash in the mobile market on Monday, announcing an alliance with various handset makers and cellphone operators around the world that are willing to push its "open" platform for cellphone applications, the paper said, citing sources. "It's always possible the announcement's timing could change, but Monday looks like the day at this point."