Intel says Mac Pro-bound Harpertown Xeons set speed records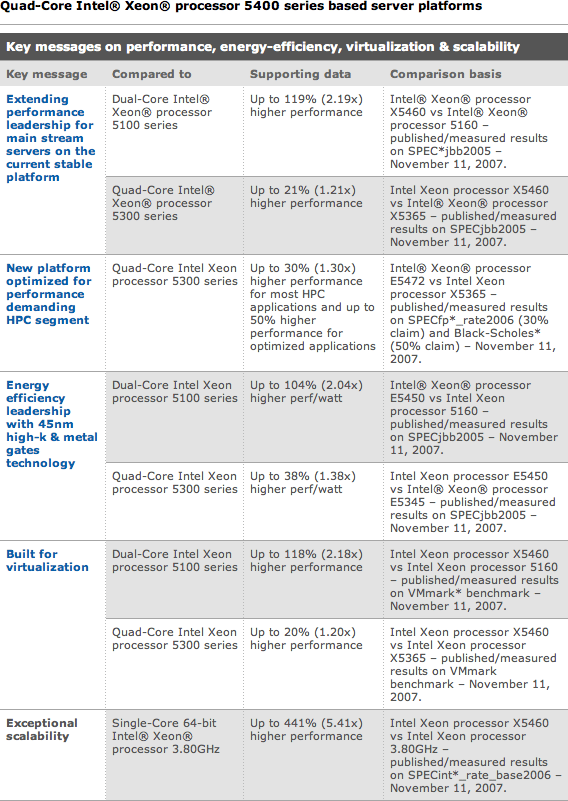 As promised, Intel Corp. this week formally announced its first round of 45-nanometer microprocessors, including a new family of Mac Pro-bound Xeon chips that have achieved a series of world speed records.
Dubbed the biggest transistor advancements in 40 years by Intel Co-Founder Gordon Moore, the processors are the first to use Intel's Hafnium-based high-k metal gate (Hi-k) formula, which alleviates the wasteful electricity leaks that threaten the pace of future computer innovation.
The 15 new Xeon processors are also the first to be manufactured on the Santa Clara-based company's 45-nanometer (nm) manufacturing process, which boasts nearly twice the transistor density of previous chips built on the company's 65nm technology. In addition to increasing computer performance and saving energy use, the new Xeons also eliminate eco-unfriendly lead and, in 2008, halogen materials.
These breakthroughs, Intel says, clear the path for the chipmaker to design products that are 25 percent smaller than previous versions and, thus, more cost-effective, as well as the ability next year to pursue new ultra mobile and consumer electronics "system on chip" opportunities.
"This feat, coupled with our industry-leading architectures, means faster and sleeker computers, longer battery life and better energy efficiency, said Intel chief executive Paul Otellini. "Our objective is to bring consumers a new class of computers delivering a full Internet experience in ever-smaller, more portable form factors."
Among the 15 new Xeons are 12 new 5400 series quad-core chips that feature clock speeds ranging from 2GHz up to 3.20GHz, with front side bus speeds (FSB) up to 1600MHz, and cache sizes of 12MB. Meanwhile, three new 5200 series dual-core chips boast clock speeds of up to 3.40GHz, an FSB of up to 1600MHz, and cache sizes of 6MB.
The 45nm Hi-k Quad-Core Intel Xeon 5400 series, codename Harpertown and due to turn up in the next Mac Pro workstations from Mac maker Apple Inc., set a number of world records on key industry-standard benchmarks, according to Intel.
A 5400-series equipped HP Proliant DL380 G5 Server set a new TPC-C mark with a score of 273,666 tpmC and an SAP-SD record with a score of 2449 SD-Users.
Similarly, a Dell PowerEdge 2950 server running BEA JRockit JVM delivered a record-breaking SPECjbb2005 result of 303130 BOPS. Dell also set a new virtualization performance record on VMmark benchmark running VMWare ESX Server with a score of 8.47 at 6 tiles.
Additionally, the 5400 series chipset-based platform with 1600 MHz Front Side Bus set new world records on key high-performance computing and bandwidth-intensive benchmarks including the SPECfp_rate2006 benchmark that measures floating point throughput performance. World records were also achieved in key HPC benchmarks, including Fluent, LS-Dyna, SPECOMP2001 and Abaqus.
The 45nm Hi-k Xeon processors, which range in price from $177 to $1,279 in quantities of 1,000, also extend Intel's performance-per-watt leadership by delivering an improvement of 38 percent over its previous-generation Quad-Core Xeon 5300 Series processors used in the current iteration of Apple's Mac Pro systems.
The move from 65nm to 45nm involves more than just a shrink of current chip designs, Intel explains — the processors include such additional features as new Intel Streaming SIMD Extensions 4 (SSE4), which are 47 new instructions that speed up workloads including video encoding for high-definition and photo manipulation, as well as key HPC and enterprise applications.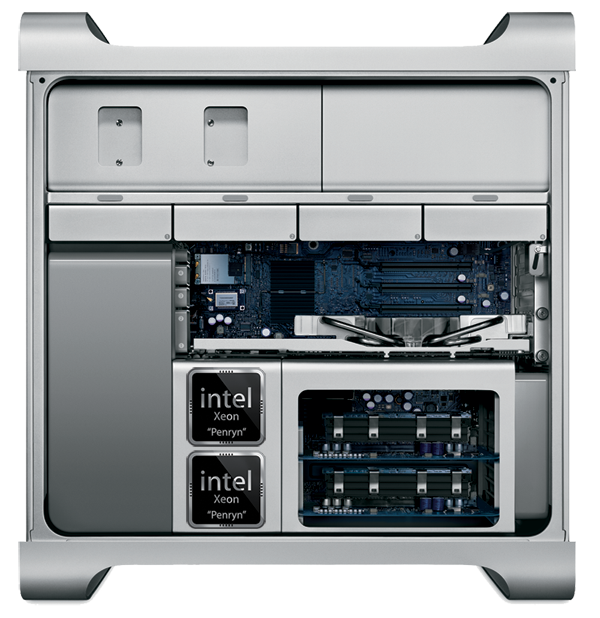 As was reported by AppleInsider last month, Apple plans to be amongst the first PC manufacturers to adopt the new 5400 Harpertown series as part of an upcoming revision to its professional Mac Pro workstations. Specifically, the Mac maker is said to be awaiting from Intel ample supplies of its top-of-the-line 3.2GHz quad-core chips for a new 8-core Mac Pro.
Apple is expected to introduce the new systems any time between mid-November and mid-January.