Apple's iPod Touch losing out to iPod Nano at checkout lines

AppleInsider may earn an affiliate commission on purchases made through links on our site.
After surveying 90 Apple stores and 18 Best Buy locations over the Thanksgiving weekend, analysts for ThinkEquity Partners LLC concluded that despite a high level of interest in the new iPod Touch among shoppers, the more affordable iPod Nano remains the clear winner at the cash register.
"Our channel checks indicate that of all the iPods, the Touch piqued the most interest from customers," analyst Darren Aftahi wrote in a research report to clients this week. "However, our conversations do not lead us to the conclusion that "level of interest" translated into consumer purchases of iPod Touch."
From interactions with sales representatives and store managers, Aftahi and his team determined that even though 8GB iPod Touch ($299) generated lots of interest among holiday shoppers, when it came to purchases, they instead decided on the 8GB iPod Nano given its smaller size and lower price ($199).
"Also, a lot of consumers seemed to opt for iPhones over iPod Touch because iPhones facilitate all that iPod can do (and more), but the opposite is not true," the analyst further advised clients. "Older individuals preferred iPod Touch because of its interface and Wi-Fi capability, while iPod Nano was more favored by younger individuals (children and teens)."
Based on his checks, Aftahi believes that iPhones are selling well, perhaps well enough to best his 3.2 million quarterly estimate come the close of Apple's first fiscal quarter of 2008 in late December.
However, he noted that feedback concluded that shoppers who are not currently AT&T customers are generally choosing an the iPod Touch over an iPhone — satisfied with its WiFi capability — to avoid early-termination carrier fees form their existing cellular providers.
"Our checks also confirmed our view that an individual buying an iPhone would not purchase iPod Touch and vice versa," he wrote. "It may be noted that the comparison between iPhones and iPods is essentially a comparison between iPhone and iPod Touch, given their similarity in appearance."
Meanwhile, MacBooks were the clear winner of Apple's personal computer business during the Thanksgiving weekend, according to ThinkEquity's data and channel checks.
"MacBooks were perceived to have generated greater interest (and purchases) than iMacs among consumers this past weekend, and we believe this will continue throughout the holiday season," Aftahi told clients. "It is worth noting that MacBooks are more popular among the college population, while iMacs are favored by families, a point reinforced through our checks."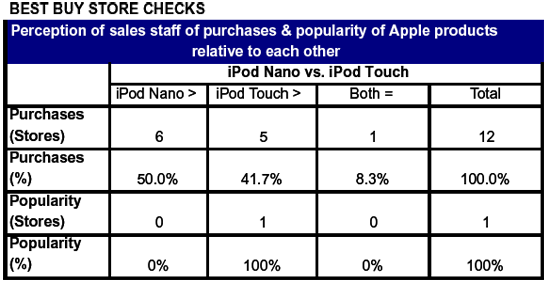 The analyst reiterated his Buy rating and $227 on shares of the Cupertino-based Apple.
"Consumer sentiment seems to favor Apple this holiday season," he wrote. "The stores that we visited exhibited high customer inflow rates, and the people who entered the store spent a considerable time there."