Report: Apple stores' Mac sales beat PC stores by 10-to-1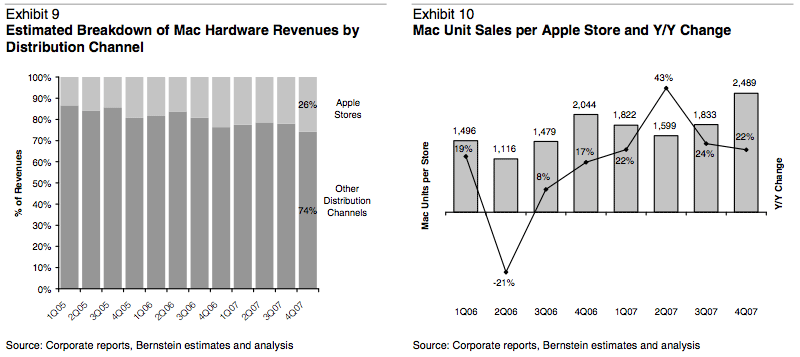 AppleInsider is supported by its audience and may earn commission as an Amazon Associate and affiliate partner on qualifying purchases. These affiliate partnerships do not influence our editorial content.
An average Apple retail outlet easily outperforms its generic counterpart in terms of revenue and sales — but the expense of supporting all those customers may be pulling Apple down, says a new investment note from Bernstein Research.
Senior analyst Toni Sacconaghi expresses surprise at the numbers in the report, which observes that the typical Apple retail location sells about 21.4 Macs every day versus "less than 2" for many less specialized electronics shops. This amounts to about 8,000 Macs per store per year and played a crucial role in expanding the Mac's appeal: about two-thirds of store revenues came from the computers and likely earned Apple the lion's share of its converts.
"We estimate that the stores, which collectively represent just 2.5% of the Mac's global distribution points, drove more than one third of its market share gain during the year," Sacconaghi says.
The average Apple retail space grew its Mac sales by 26 percent year-over-year.
Apple was also the most efficient overall for retail stores, the researcher adds. For fiscal 2007, all of the Cupertino, Calif.-based firm's retail space earned roughly $4,500 per square foot. The figure contrasts starkly with big-box retailer Best Buy, who despite its success has only managed to earn $930 for the same floor space. Even the very profitable jeweler Tiffany & Company netted just $2,750 for every square foot in the same timeframe and was free from the competition of a shopping mall.
This could increase Apple's total revenue by almost $1.4 billion in the fiscal year, especially as the Mac maker earns the full retail price from each sale rather than just the wholesale price passed on to a third-party store. It also opens the door to third-party accessory sales that wouldn't be possible if Apple relied solely on resellers.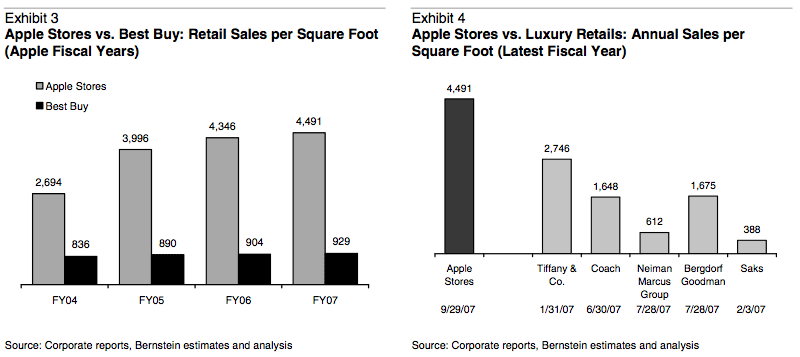 However, Apple may be sitting on a number of potentially volatile factors that could sink their success rates, the Bernstein analyst says. With staffing levels to provide sales and technical service climbing much higher than they normally would be at other stores — averaging at 40 workers per store — Apple's expenses for taking care of customers are growing faster than for store profits. Profit margins at the retail stores were just 21.3 percent during fiscal 2007 versus 24.7 percent for every other division.
iPod sales for each official store have also dropped by about 50 percent on average over the last year, the researcher says, placing more pressure on Apple to fare well in its Mac business. But as long as new efforts such as the iPhone continue to generate healthy profit margins and sales numbers, the threat of a sudden collapse is remote, Bernstein Research observes.
"We ultimately believe investors should look to maintain a market-weight in Apple, as we see explosive, yet balanced, risk on both sides," Sacconaghi says.