Wired claims last-minute "MacBook Air" details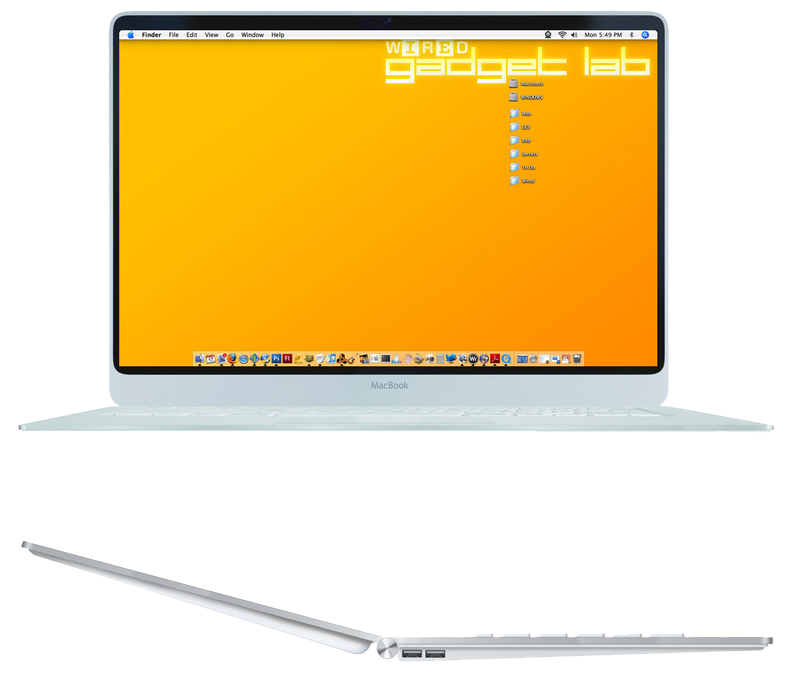 An alleged insider at a third-party vendor is said by Wired to have fresh details on the rumored 'MacBook Air' sub-notebook just hours before its unveiling at Macworld San Francisco.
In its description, the magazine's Gadget Lab blog describes the lightweight notebook as teardrop-shaped when shut, thickening towards the hinge of the system but thinning near the edges — and remaining "unbelievably" thin overall, according to the source.
The system, according to the source, shares the same aluminum and glass construction of the iMac with black accents on a silver frame.
The tip also suggests that the MacBook Air name refers not just to the computer's slender design but also an apparent dependence on wireless: it may drop Ethernet altogether in favor of Wi-Fi or "other wireless technology," the purported source said, though it's unknown whether this would involve AT&T's 3G (third-generation) service, Sprint's Intel-derived WiMAX network, or any service at all.
Multi-touch is also suggested for the display, though this too remains a mystery.

MacBook Air mockup image (courtesy of Wired)
In recent days, AppleInsider has received similar descriptions, though it has been unable to confirm the authenticity of those reports.
According to one submission, the notebook sports "very thin edges" with a slightly thicker body that "curves to the sides at the edges," producing a slimming effect akin to the rear design of the new aluminum iMacs.
The submission went on to say that the front of the notebook appears to be no more than 3/16th of an inch thick when closed and that the right side of the unit is void of any ports with the exception of an unknown slot.
Both the keyboard and trackpad are said to closely mirror those of Apple's existing MacBook, and the "Air" in the bezel logo is said to use a lighter font than the preceding "MacBook."
Again, AppleInsider has so far been unable to authenticate these latest claims, though numerous details — such as first word of the subnotebook format's return, its use of a 13-inch display, and its Macworld Expo debut — have all been published in a series of reports dating as far back as February of last year.