Apple execs, Intel share, Lotus software, MBA SuperDrive, more...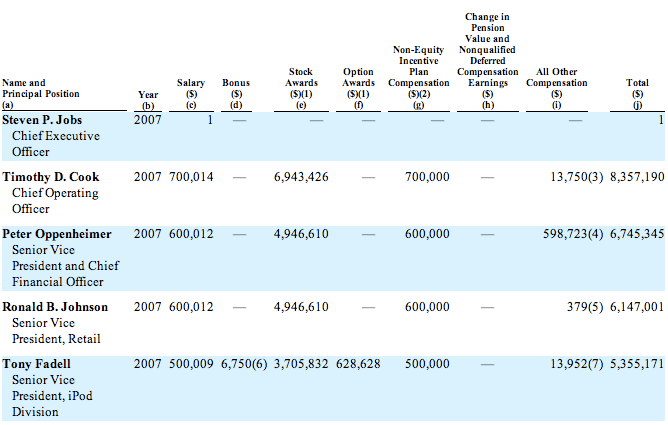 Apple executives received significant bonuses that included millions in stock-based compensation for their service to the company during fiscal 2007. Meanwhile, Intel is gaining share on rival AMD, the MacBook Air's SuperDrive may be limited to use with new notebook, and IBM is not yet ready to unleash its Lotus software suites for Apple's desktop and mobile products.
Several of Apple's senior executives received considerable compensation packages in fiscal 2007, according to regulatory filings with the Securities and Exchange Commission. Chief executive Steve Jobs, however, was not one of them.
Jobs has taken home a $1 annual salary since he rejoined the Apple in 1997 and began serving as interim CEO. In 1999, the company awarded him a $43.5-million Gulfstream V aircraft as an executive bonus in recognition of his performance during the two previous years.Â
Jobs also received two stock option grants, one in 2000 and another in 2001. However, he never exercised those grants, and they were both cancelled in March 2003 when the company awarded him a new grant of 5 million shares of restricted stock because the older grants had gone underwater.
After a portion of those shares were withheld for the payment of taxes, Jobs received the remaining 5,426,447 shares. With the addition of a 30,000 stock options grant that was awarded to him when he was elected to the company's Board in 1997 and exercised after two stock splits, Jobs currently holds just over 5.55 million shares of Apple common stock.
"In fiscal year 2007, Mr. Jobs's entire compensation consisted of his $1 annual salary," Apple said in its most recent fling. "Because Mr. Jobs's continued leadership is critical to the Company, the Compensation Committee is considering additional compensation arrangements for him."
For their roles, Chief Operating Officer Timothy Cook, Chief Financial Officer Peter Oppenheimer, Senior Vice President of Retail Ron Johnson, and Senior Vice President of iPod Division Tony Fadell, each received bonus between $500,000 and $700,000 respective of their salaries, in addition to millions in stock-based compensation (see chart, below).
Each executive, with the exception of Jobs, also received an iPhone from the company valued at a tax gross-up of $379.
Meanwhile, Intel Corp. has reportedly widened its lead over archrival Advanced Micro Devices Inc., as the worldwide personal computer chip-maker posted an 8.5% sequential fourth-quarter growth, according to the International Data Corp.
Intel was still the No. 1 PC chip maker, with 76.68% share of total shipments in the fourth quarter, up from 74.55% in the year-ago period, according to IDC. AMD was still No. 2 with 23.09%, compared to 25.32% in the same quarter the previous year.
Intel also remained dominant in the three major PC chip markets — desktops, notebooks and servers — IDC said.
Air's SuperDrive limitations
The MacBook Air's $99 external SuperDrive may only be recognized by the Air rather than any computer due to custom requirements for both the new sub-notebook and its peripheral.
While external optical drives have existed that rely on the USB port alone, the particular power demands of the Apple-made drive should prevent it being used elsewhere, reports Electronista. The Air's sole USB port has been boosted past its specifications to supply enough power to use the drive with just the data cable rather than a direct power connection.
IBM is still preparing the launch of a Lotus Notes web client for the iPhone and iPod touch, despite earlier reports from the Associated Press that the software would be released at this week's Lotusphere conference.
IBM now claims that the client is "not something that [it's] ready to go out and market or launch." Lotus Notes is a long-standing collaborative suite which integrates e-mail, calendars and other workgroup applications.
Skyhook behind Maps with location
Finally, the USAToday takes a closer look at Skyhook Wireless, which helps provide some of the technology behind the location feature of Apple's new mobile Maps application for the iPhone and iPod touch.
According to Skyhook chief executive Ted Morgan, the technology works as follows: "Every Wi-Fi access point, whether public or private, sends out a signal every second or so, like a lighthouse. We pick up those signals and use our technology to calculate your exact location."
Skyhook, which detects but does not connect to those Wi-Fi networks, sent teams of drivers around the USA and Canada to map out hot spots in order to get its service up and running. The firm claims to have 70% of North America covered and is now cruising Europe and Asia to build its database.
Skyhook's system works best indoors and in urban settings, while GPS is better in areas with clear views of the open skies, to reach satellite signals. As a result, Apple uses a combination of Skyhook's WiFi technology and Google's technology in the new version of Maps.
The software looks for Wi-Fi signals first, and if there are none, it switches to Google's cell-tower information, the USA Today reports.
AppleInsider has affiliate partnerships and may earn commission on products purchased through affiliate links. These partnerships do not influence our editorial content.